Nova Scotia Organics Women's Mena & Meno Balance Formula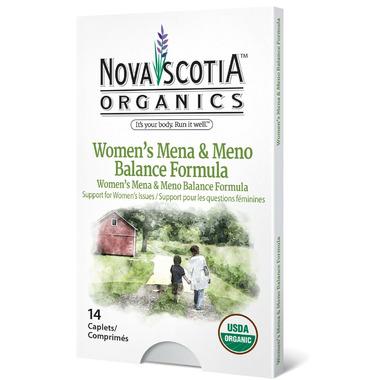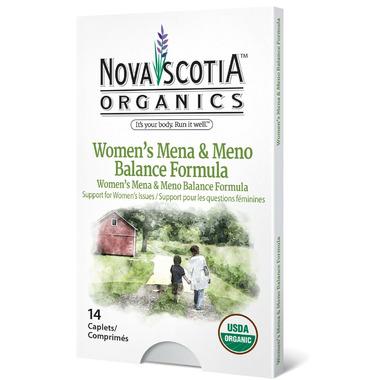 Nova Scotia Organics Women's Mena & Meno Balance Formula
The Nova Scotia Organics Women's Mena & Meno Balance Formula includes some of the most ancient plant based solutions for menstrual and menopausal support in the world, as well as some more modern additions. Dong Quai extract, Shatavari, Eleuthero (also known as Siberian Ginseng), Red Clover flower, Black Cohosh and Chaste Tree powder may just be what the naturopath ordered for you!
Features:
Dairy free
Gluten free
GMO free
Herb/Herbal
Magnesium Stearate free
No Fillers
Peanut free
Soy free
Synthetics free
USDA Certified Organic
Vegan
Vegetarian
How to Use (Adults):
Take 1 caplet per day.
Cautions and Warnings:
Do not take if you are pregnant, have high blood pressure, heavy periods, diarrhea or hemorrhagic diseases, or if you have an allergy to members of the carrot/celery family. Consult your health care practitioner prior to use if: you are breastfeeding, taking blood thinners, if you are taking hormone-containing medications, have a family history of cancer, any type of acute infection, have a liver disorder or develop symptoms of liver trouble or if you are taking Lithium. If menstruation is delayed or absent, if you experience increased menstrual bleeding time or if symptoms persist/worsen consult your health care practitioner. If you experience breast pain, discomfort and/or tenderness, discontinue use and consult your health care practitioner. Keep out of reach of children. Store between 15 and 25 degrees celsius in a dark dry place. Do not use if packaging is damaged.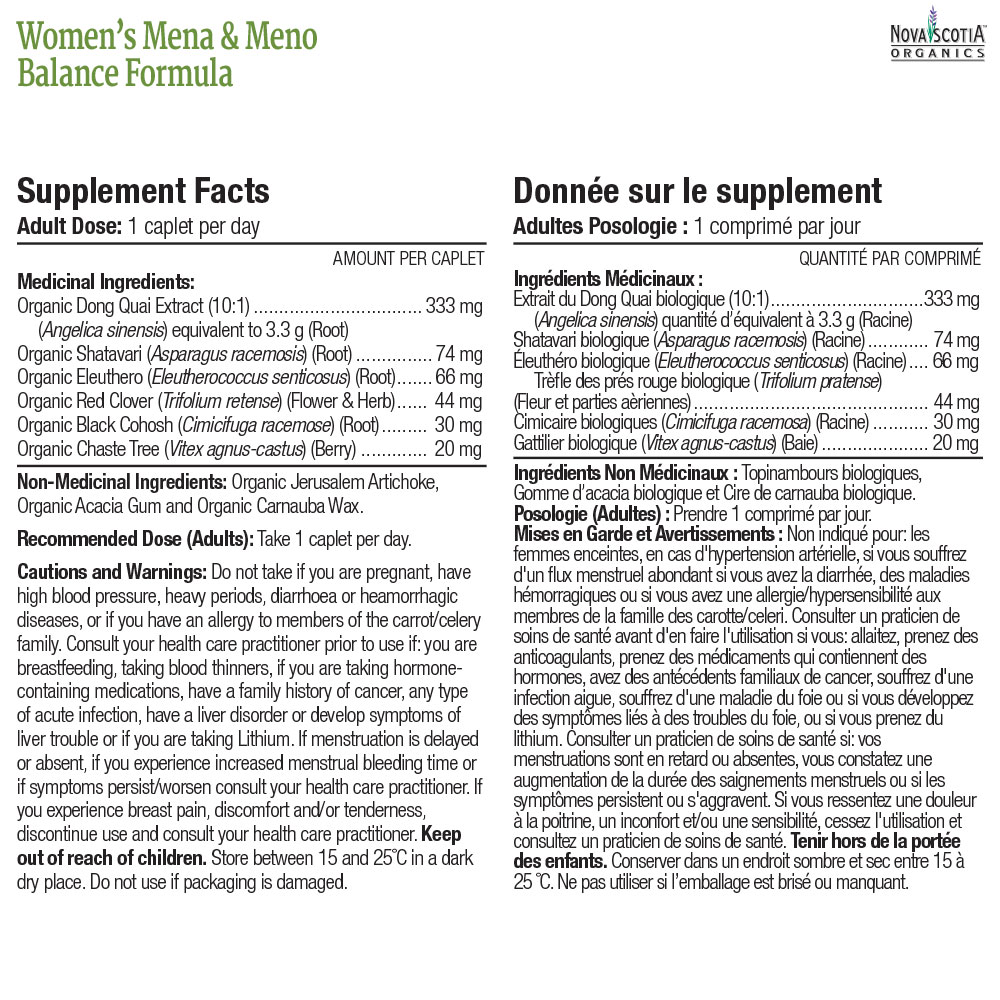 Medicinal Ingredients:
Organic Dong Quai Extract (10:1) - 333 mg
(Angelica sinensis) equivalent to 3.3 g (Root)
Organic Shatavari (Asparagus racemosis)(Root) - 74 mg
Organic Eleuthero (Eleutherococcus senticosus)(Root) - 66 mg
Organic Red Clover (Trifolium retense)(Flower and Herb) - 44 mg
Organic Black Cohosh (Cimicifuga racemose)(Root) - 30 mg
Organic Chaste Tree (Vitex agnus-castus)(berry) - 20 mg
Non-Medicinal Ingredients:
Organic Jerusalem Artichoke, Organic Acacia Gum and Organic Carnauba Wax. MAY CONTAIN
PEANUTS
,
TREE NUTS
,
MILK
,
EGG
,
SESAME
,
SOY
,
WHEAT
,
SEAFOOD
,
MUSTARD
,
SULFITES
.