NOW Foods Acai Superfruit Antioxidant Juice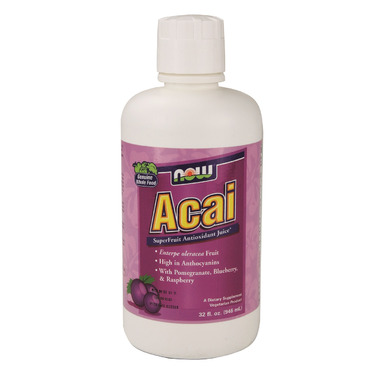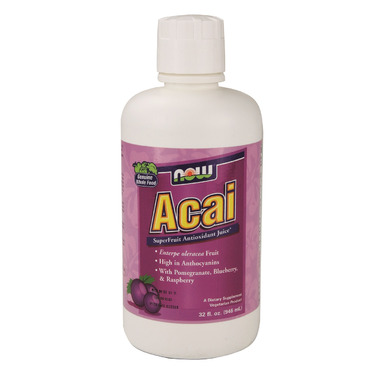 NOW Foods Acai Superfruit Antioxidant Juice
From Acai Palm Trees nestled deep within the lush Brazilian rainforests of the Amazon grows one of our planet's most remarkable and nutritious fruits. Acai berries (Euterpe oleracea) have remained highly esteemed throughout history by Brazilian natives based on their generous nutrient content, pleasant taste and unmistakable ability to promote health and vitality. NOW Acai Juice has a refreshing berry taste, offering 6,500 mg of Acai concentrate per 1 oz. serving.
Acai berries contain Vitamin C, and are an excellent source of polyphenols, including rutin, anthocyanins, and catechins. Acai is naturally rich in ellagic acid. These and other antioxidant compounds protect delicate tissues from free radical attack, a key factor in healthy aging.
The nutrients and antioxidants in NOW Acai Juice help support healthy immune and inflammatory response through its modulatroy effects on Nitric Oxide (NO) production.
In addition to its powerful antioxidant properties, Acai Juice modulates NO production and healthy vascular response to stress. Each of these effects is important for the support of healthy heart and blood vessels.
Features:
Euterpe oleracea Fruit
High in Anthocyanins
With Pomegranate, Blueberry, & Raspberry
A Dietary Supplement
Vegetarian Product
Superior Antioxidant Protection
Cardiovascular Support
Naturally Rich in Ellagic Acid, Vitamin C and Fiber
Supports Healthy Immune and Inflammatory Responses

Ingredients:
Acai Juice, Triple Filtered Water, Blueberry Juice Concentrate, Raspberry Juice Concentrate, Pomegranate Juice Concentrate, Citric Acid, Natural Flavor and Potassium Sorbate (as a preservative).
Contains No:
added sugar, salt, starch, yeast, wheat, gluten, corn, soy, milk, egg, shellfish or artificial colors/flavors. Vegetarian/Vegan Product.