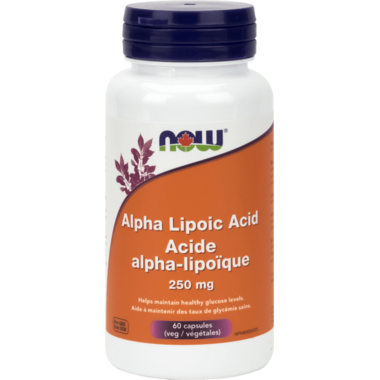 Description
Alpha Lipoic Acid is a versatile water and fat soluble metabolic antioxidant. It is a potent free radical quencher and aids other vitamins in their antioxidant activities. Elevated blood glucose has been implicated as a leading indicator of metabolic syndrome, increasing the risk for a number of degenerative diseases. According to a survey of 685 herbalists, alpha lipoic acid was one of the 10 most frequently recommended dietary supplements due to its efficacy in reducing high blood sugar levels.
Features:

Help maintain healthy glucose levels
Fat and water soluble antioxidant
Universal Antioxidant
High Potency
Vegetarian Formula
Medicinal Ingredients: 1,2-dithiolane-3-pentanoic acid 250mg

Non-Medicinal Ingredients: Rice Flour, Vegetable Polysaccharide (capsule), Silica and Magnesium Stearate (vegetable source).

Highlights

Shipping & Returns