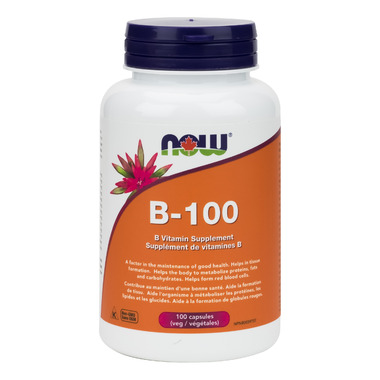 Description
A key ingredient in day to day healthy living, water-soluble B vitamins are not stored in the body and must be replenished daily. This is NOW®'s highest potency, multiple B-vitamin product and is designed to provide consumers with the required daily intake in one complete supplement. Formula provides 100 mg of the majority of the B-Complex vitamins.
Features:
Maintains Good Health
Helps in tissue formation including red blood cells, and maintains bones, cartilage, teeth, and gums
Helps metabolize proteins, fats, carbohydrates
High potency 100 mg B Complex

Medicinal Ingredients: Biotin 100.0 mcg, Choline 40.0 mg, Folate 400.0 mcg, Inositol 100.0 mg, Niacinamide 100.0 mg, Pantothenic acid 100.0 mg, Riboflavin 100.0 mg, Thiamine 100.0 mg, Vitamin B12 100.0 mcg, Vitamin B6 100.0 mg, para-Aminobenzoic acid 10.0 mg

Non-Medicinal Ingredients: Non-Medicinal Ingredients: Veg Capsule (hypromellose, water), Ascorbyl Palmitate, Silica.
Highlights

Shipping & Returns