NOW Foods
NOW Foods B-12 Fast Acting B Complex Liquid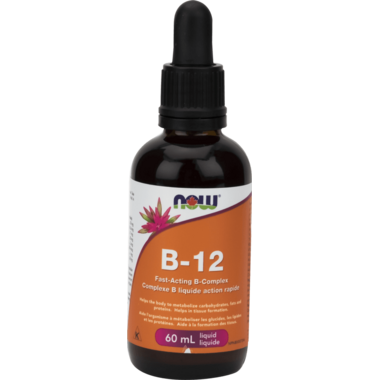 NOW Foods
NOW Foods B-12 Fast Acting B Complex Liquid
Description
NOW Foods B-12 Fast Acting B Complex Liquid is a unique, balanced B-complex formulation with synergistic vitamin C. B12 is perhaps the most popular of the B-family of vitamins and is an especially popular supplement among vegetarians. Vitamin B-12 (Cyanocobalamin) is a water soluble vitamin necessary for the maintenance of a healthy nervous system and for the metabolic utilization of fats and proteins. Vitamin B-12 is also essential for the synthesis of DNA during cell division and therefore is especially important for rapidly multiplying cells, such as blood cells. In addition, adequate intake of Vitamin B-12, along with Folic Acid and Vitamin B-6, encourages healthy serum homocysteine levels, thereby supporting cardiovascular health. NOW B12 complex is also alcohol-free and vegetarian.
Features:
Helps to maintain the body's ability to metabolize nutrients
Helps in tissue formation
Complete B-Complex formula with high potency B12 and Vitamin C
High absorbing liquid
Vegetarian/Vegan
Egg free
Directions:
Adult Dosage: Shake well before use. Take 1/8 teaspoon (0.6 mL) daily, hold in mouth for 30 seconds, then swallow.
Ingredients:
Each 1/8 teaspoon (0.6 mL) contains:
Vitamin C (as Ascorbic Acid) 12 mg
Thiamine (Vitamin B1) (from Thiamine Hydrochloride) 0.36 mg
Riboflavin (Vitamin B2) 1.02 mg
Vitamin B3 (as Niacinamide) (Flush-Free) 12 mg
Vitamin B6 (from Pyridoxine Hydrochloride) 1.2 mg
Folic Acid (Folate) 120 mcg
Vitamin B12 (as Cyanocobalamin) .06 mg
Pantothenic Acid (Vitamin B5) (as D-Calcium Pantothenate) 18 mg
Non-Medicinal Ingredients:
Distilled Water, Vegetable Glycerin, Xylitol, Malic Acid, Stevia Extract, Potassium Sorbate, Natural Vanilla Flavor, Natural Peppermint Flavour, Ginger Root, Grapefruit Fibre, Cinnamon Bark Oil (Ceylon).
Highlights

Shipping & Returns