NOW Foods B12 Instant Energy Packets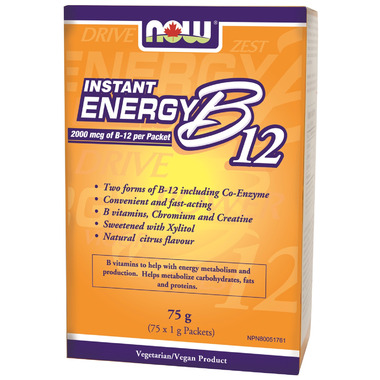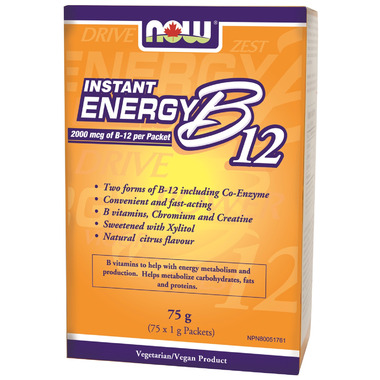 NOW Foods B12 Instant Energy Packets
NOW Foods B12 Instant Energy packets provide a unique blend of natural health ingredients that support energy production and metabolism. With 2000 mcg of multi-source B12 and a full complement of essential B vitamins, chromium, and creatine cofactors, our formula provides key nutrients that facilitate the efficient use of dietary proteins, carbohydrates, and fats.
With the convenience of single – serve packets and a refreshing natural citrus taste that is free of artificial flavours and preservatives, our Instant Energy formula is designed to meet the daily, physical demands of busy, health-conscious consumers. And because it doesn't contain refined sugar, caffeine or other stimulants, it eliminates the "jolt-and-crash" effect typically experienced after consuming most energy drinks.
NOW B12 Instant Energy works fast and is designed to last.
Benefits:Ingredients
Thiamine 1.5 mg
Riboflavin 1.7 mg
Vitamin B3 20 mg
Vitamin B6 2 mg
Folate 400 mcg
Vitamin B12 2000 mcg
Vitamin B5 30 mg
Chromium 60 mcg
Creatine 250 mg

Non-Medicinal Ingredients:
Xylitol, Rice Maltodextrin, Citric Acid, Natural Citrus Flavours, Silica