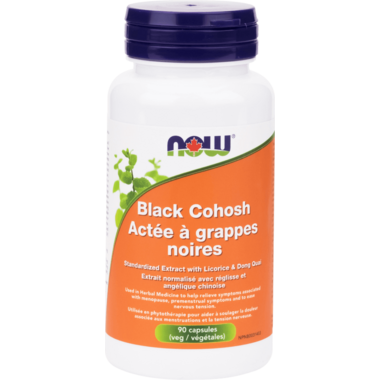 Description
NOW Foods Black Cohosh Extract can be used in herbal medicine to help relieve symptoms associated with menopause, premenstrual symptoms and to ease nervous tension. Black Cohosh is a plant that has been historically used by Native American women. Current scientific research shows that Black Cohosh Root may help support a healthy response to the natural changes occurring during menopause. NOW Black Cohosh Extract also includes Licorice Root and Dong Quai, which have enjoyed widespread popularity in Asia for centuries, especially among middle aged women.
Features:
Standardized Extract
With Licorice & Dong Quai
Vegetarian/Vegan
Egg free, soy free
Directions:
Adult Dosage: Take 1 capsule twice daily. Consult a health care practitioner for use beyond 4-6 weeks.
Ingredients:
Each capsule contains:
Black Cohosh (Actaea racemosa) Root (10:1 Extract) 80 mg, standardized for 2.5% Triterpene Glycosides as 27-Deoxyactein
Licorice Root (Glycyrrhiza glabra) Root 125 mg
Dong Quai (Angelica sinensis) Root 125 mg
Non-Medicinal Ingredients:
Veg Capsule (hypromellose, water), Rice Flour and Magnesium Stearate (vegetable source).
Caution:
Consult a health care practitioner prior to use if you have diabetes, a liver disorder or develop symptoms of liver trouble and/or if you are taking birth control pills or hormone replacement therapy (HRT), diuretics, potassium depleting agents or MAO inhibitors. Consult a health care practitioner if symptoms persist or worsen or if you are breastfeeding. Discontinue use and consult a health care practitioner if you experience breast pain, discomfort and/or tenderness, if menstruation is delayed orabsent, or if you experience increased menstrual bleeding time. Do not use if if you are pregnant, you have hypokalemia, high blood pressure, kidney or cardiovascular disorders, uterine fibroids, breast/uterine/ ovarian cancer or hormone sensitive conditions such as endometriosis, or if you are taking anticoagulant/ antiplatelet therapy (including warfarin), thiazide duretics, cardiac glycosides, corticosteroids, stimulant laxatives or other medications which may aggravate electrolyte imbalance. May cause headache, sun-sensitivity and increased burping and gas. Avoid prolonged exposure to sunlight, ultraviolet light (UV) or UV therapy.
Highlights

Shipping & Returns