NOW Foods Butterbur Extract With Feverfew Veg Capsules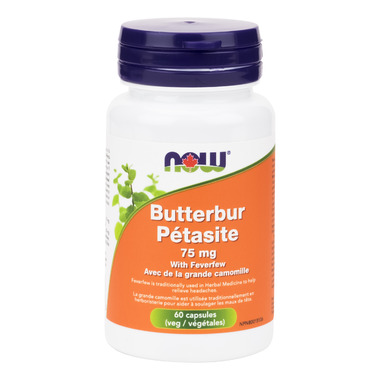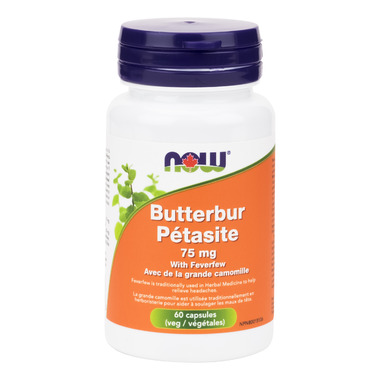 NOW Foods Butterbur Extract With Feverfew Veg Capsules


NOW Foods Butterbur Extract With Feverfew Veg Capsules may help to maintain head comfort in healthy individuals. NOW Foods has made this free of undesirable Pyrrolizidine Alkaloids (PA's), so it can be used regularly. European herbalists have been using Butterbur for decades and scientific studies have demonstrated that Petasins, the active constituents in Butterbur, can support healthy blood flow to the brain and promote normal neurological function.
Features:
Feverfew is traditionally used in Herbal Medicine to help relieve headaches
Vegetarian / Vegan
Egg free, soy free
Directions:
Adult Dosage: Take 1 capsule daily for up to 16 weeks. Use for a minimum of 4-6 weeks to see beneficial effects.

Ingredients:
Each capsule contains:
Butterbur (Petasites hybridus Root) 75 mg (Standardized to a min. 12% Sesquiterpines as Petasines)
Feverfew (Tanacetum parthenium Herb) 200 mg
Egg free, soy free

Non-Medicinal Ingredients:
Veg Capsule (hypromellose, water), Cellulose, Magnesium Stearate (vegetable source), Silica and Stearic Acid.
Caution:
Consult a health care practitioner prior to use if you are taking blood thinners, if you are breastfeeding or if your symptoms persist or worsen. Do not use if you are pregnant or if you are allergic to plants of the Asteraceae/Compositae/Daisy family. Hypersensitivity/allergy, mouth sores or mouth ulcers and/or gastrointestinal discomfort are known to occur; in which case, discontinue use. If yellowing of the skin or eyes, dark urine, itching of the skin or abdominal pain occurs, discontinue use and consult a health care practitioner.