NOW Foods
NOW Foods Chromium Picolinate 200 mcg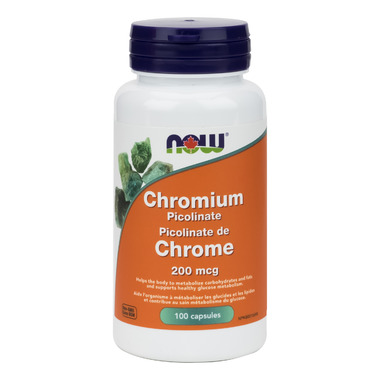 NOW Foods
NOW Foods Chromium Picolinate 200 mcg
Description
Everyone processes food differently, some bodies have a harder time than others with certain materials. To help the natural processes in your body along, take Chromium to assist your metabolism. Chromium is an essential trace mineral that works with insulin to support healthy blood glucose levels and plays an important role in the proper utilization of protein, fat and carbohydrates.
Medicinal Ingredients: Chromium 200mcg

Non-Medicinal Ingredients: Hypromellose, Rice flour, Water
Caution: Consult your health care practitioner prior to use if you have a kidney disorder and/or diabetes. Do not use if you are pregnant or breastfeeding.

Highlights

Ingredients
Medicinal Ingredients: Chromium 200mcg Non-Medicinal Ingredients: Hypromellose, Rice flour, Water
Shipping & Returns