NOW Foods
NOW Foods Cod Liver Oil with Vit A & D 650 mg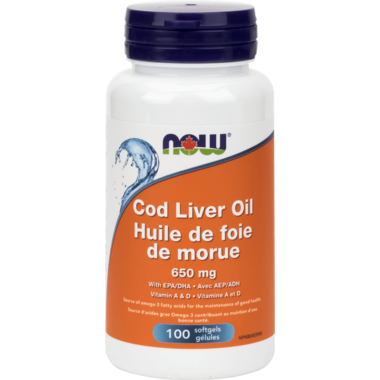 NOW Foods
NOW Foods Cod Liver Oil with Vit A & D 650 mg
Description
Used throughout generations, Cod Liver Oil is a supplement rich in a number of nutrients such as Vitamins A and D-3. It also contains Omega-3 Fatty Acids, specifically EPA Eicosapentaenoic Acid) and DHA (Docosahexaenoic Acid), which have been shown to support overall health. NOW Cod Liver Oil is tested to be free of potentially harmful levels of contaminants (i.e. mercury, heavy metals, PCB's, dioxins, and other contaminants). This double strength Cod Liver Oil contains twice the Vitamins A and D-3 as in the regular strength Cod Liver Oil Softgels.
Features:

Source of omega-3 fatty acids for the maintenance of good health
Provides Vitamin A & D
Contains EPA & DHA
Double Strength Vitamins A & D
Tasteless Softgel Delivery
Suggested Usage:
As a dietary supplement, take 1 softgel 1-3 times daily with a meal.
Ingredients (each softgel contains):

Cod Liver Oil (Gadus morhua) ... 650 mg
Providing:
EPA ... 45 mg
DHA ... 80 mg
Vitamin A (from Cod Liver Oil and Retinyl Palmitate) ... 2500 IU (750 mcg)
Vitamin D (from Cod Liver Oil and Cholecalciferol) ... 270 IU (6.75 mg)
Other Ingredients:
Softgel Capsule (gelatin, glycerin, water).
Highlights

Shipping & Returns