NOW Foods
NOW Foods Folic Acid with Vitamin B12 800 mcg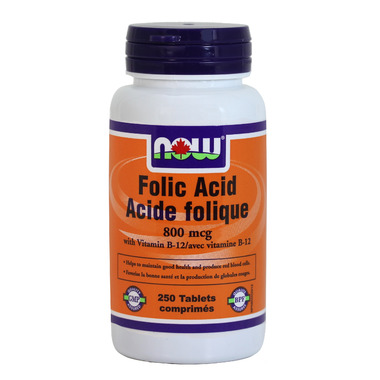 NOW Foods
NOW Foods Folic Acid with Vitamin B12 800 mcg
Description
An estimated 20% of the US population suffers from some form of folic acid deficiency. And as one of the most difficult water-soluble vitamins to absorb, quality plays an integral role when choosing this essential B vitamin. Folic Acid is a very important member of the B-vitamin family required for DNA synthesis and genetic repair, making an adequate supply essential for rapidly dividing cells, such as red blood cells.

Folic Acid is also necessary for the synthesis of methionine from homocysteine and can help to contribute to the healthy function of both the cardiovascular and nervous system. Recent research has shown that Folic acid supplementation may prevent neural tube defects and is therefore suggested for use in women of childbearing age in order to prevent neural tube defects.
Features:

Maintains Good Health

Helps red blood cell formation
Important factor before and during pregnancy
Enhanced with Vitamin B12
Medicinal Ingredients (per tablet):

Folic Acid ... 800 mcg
Vitamin B12 (as Cyanocobalamin) ... 25 mcg

Other Ingredients: Cellulose, stearic acid (vegetable source), magnesium stearate (vegetable source).
Highlights

Shipping & Returns