NOW Foods Gr8-Dophilus Probiotic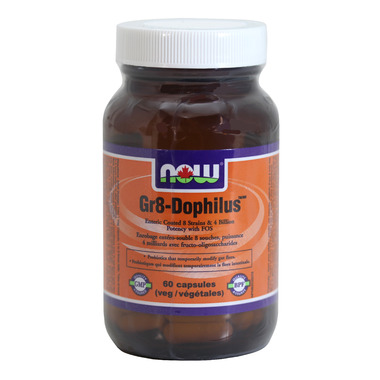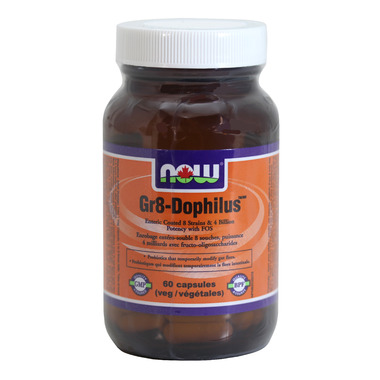 NOW Foods Gr8-Dophilus Probiotic
NOW Gr8-Dophilus is a combination of 8 different species of beneficial bacteria designed to support gastrointestinal health and immune system function. FOS is also included in this product to assist healthy growth of acidophilus and bifidus organisms. Because this capsule is enteric coated, NOW Gr-8 Dophilus delivers its microflora directly to the intestine bypassing the harsh acidic conditions of the stomach. NOW Gr-8-Dophilus is stable at room temperature, requiring no refrigeration.
Features:
Healthy Intestinal Flora
8 Strains & 4 Billion Potency
with FOS / Enteric Coated
No Refrigeration Necessary
Promotes Positive Probiotic Balance and Supports Immune System
A Dietary Supplement
Directions: Adult dosage: Take 1 veg capsule, 1 to 3 times daily. Take at least 2-3 hours before or after antibiotics.

Medicinal Ingredients (each capsule contains):

Lactobacillus acidophilus ... 1.2 billion
Lactobacillus casei ... 600 million
Lactobacillus rhamnosus ... 600 million

Lactobacillus salivarius ... 600 million

Streptococcus thermophilus ... 4 million

Bifidobacterium bifidum ... 200 million

Bifidobacterium longum ... 200 million

Bifidobacterium lactis ... 200 million
Other Ingredients: Veg capsule (hypromellose, water), Fructooligosaccharides, Ascorbic acid, Magnesium stearate (vegetable source), Maltodextrin, (milk). Contains trace amounts of soy protein (peptides) and lactose (milk). This product has come in contact with soy, milk, and barley. If you have a soy, dairy or barley allergy, do not use this product.
Please be advised that Well.ca follows manufacturer guidelines for storing & shipping probiotics. This product will be shipped with an ice-pack to maintain product efficacy.