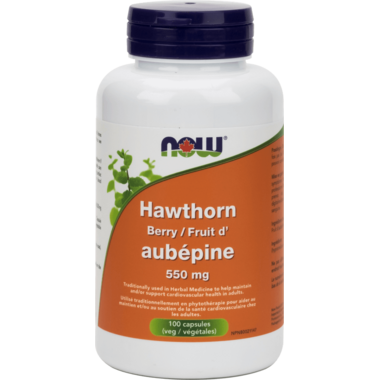 Description
A vitamin that works with your system and keeps fighting for your health. Hawthorn finds and eliminates free radicals, while strengthening Hawthorn Berries have a long history of traditional use in Europe and North America as an herbal tonic. Modern scientific studies have identified a number of bioactive constituents, including OPCs (Oligomeric Procyanidins). Many of these compounds have been found to possess powerful free radical scavenging activity.

Features:
Circulatory Support
Supports Heart Health
Antioxidant Properties
Dosage: Adult dosage: Take 2 capsules 3 times daily. Use for a minimum of two months to see beneficial effects.
Ingredients (each capsule contains):
Hawthorn Berry ... 550 mg
(Crataegus oxyacantha) Dried Fruit
Other Ingredients: Gelatin, water (capsule) and Magnesium Stearate (vegetable source).

Risk Information: Consult a health care practitioner if symptoms persist or worsen. Consult a health care practitioner prior to use is you are taking cardiac glycosides such as digitalis/digoxin, or blood pressure medication.

Highlights

Shipping & Returns