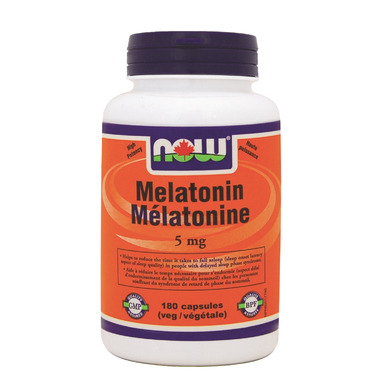 Description
We are creatures of habit, and a change to when you get to sleep can throw off your whole schedule. Get back into that routine or conquer a whole new one with NOW Foods Melatonin. Melatonin is a neuro-hormone (amino acid) naturally produced in the pineal gland in the brain and present in high amounts in the gastrointestinal tract. It is involved in many of the body, brain and glandular biological functions including regulation of normal sleep/wake cycles. NOW Melatonin which is also pharmaceutical grade, is at its highest purity rate one can handle bringing it in at a minimum purity percentage of 99.6% to back it.
Features:

Helps increase the total sleep time in people suffering from sleep restriction or altered sleep schedule
Decreases the time it takes to fall asleep

Helps relieve the daytime fatigue associated with jet lag
High Quality

Other Ingredients: Rice Flour and Gelatin (capsule).

Highlights

Shipping & Returns