NOW Foods
NOW Foods Non-GMO Lecithin Granules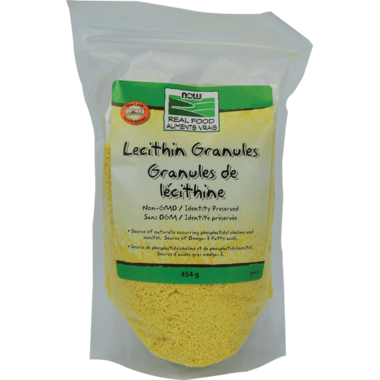 NOW Foods
NOW Foods Non-GMO Lecithin Granules
Description
Lecithin is a naturally occurring compound found in all cells in nature. NOW Non-GMO lecithin granules are derived entirely from non -genetically modified soybeans that have been identity preserved.
Features:
Source of naturally occurring phosphatidyl choline and inositol.
Source of Omega-3 fatty acids.
Identity Preserved Source to ensure Non-GMO
Kosher
Directions: Take 1 1/2 tablespoons with juice, shakes, or sprinkle on your favourite foods and consume.
Ingredients:
Soy Lecithin. Typical levels of Phospholipids per serving: Phosphotidyl Choline: 2.3 g, Phosphotidyl Inositol: 1.4 g
Highlights

Ingredients
Soy Lecithin. Typical levels of Phospholipids per serving: Phosphotidyl Choline: 2.3 g, Phosphotidyl Inositol: 1.4 g
Shipping & Returns