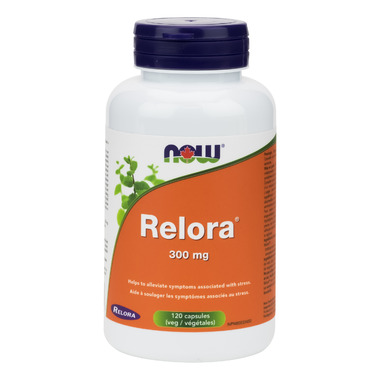 Description
Stress can prove to be a major disruptor in people's lives, and the symptoms can show in a variety of ways. Relora is a natural remedy to relieve or minimize many of these symptoms of stress.
Common everyday life stress has been found to be a major contributing factor in overeating. Relora® is a clinically validated blend of plant extracts from Magnolia officinalis and Phellodendron amurense that has been shown to support the body's response to minor, temporary stress, which can result in nervous tension, irritability, fatigue, sadness, and nervous eating. The relaxing effect of Relora® has been shown to help control appetite and stress-related eating, thereby helping you to manage your weight.
Ingredients (each capsule contains):
A proprietary blend of a patented extract of Magnolia officinalis bark (1.5% Honokiol) and a proprietary extract of Phellodendron amurense bark (0.1% Berberine).
Non-Medicinal Ingredients:
Rice Flour, Veg Capsule (cellulose), Corn Starch, Silica and Magnesium Stearate (vegetable source).
Consult a health care practitioner if you are taking any prescription medication, if you have a kidney disorder, or if you have blood pressure problems. Consult a health care practitioner prior to use if you suffer from any psychological disorder and/or condition such as frequent anxiety or depression. Concomitant use with herbs, supplements and medications that have sedative properties might increase the risk of excessive drowsiness. Consult a health care practitioner if symptoms persist or worsen. Do not use if you are pregnant or breastfeeding.
WARNING
: Consumption with alcohol, other medications, or natural health products with sedative and/or analgesic properties is not recommended. May cause heartburn, shaking hands, perilabial numbness, sexual dysfunction and thyroid dysfunction. Some people may experience drowsiness. Exercise caution if operating heavy machinery, driving a motor vehicle or involved in activities requiring mental alertness.
Highlights

Shipping & Returns