NOW Foods Super Antioxidants Veg Capsules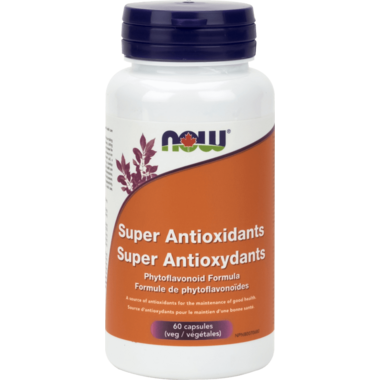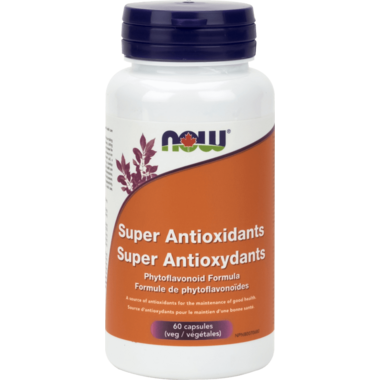 NOW Foods Super Antioxidants Veg Capsules
NOW Foods Super Antioxidants Veg Capsules is a comprehensive blend of potent herb and fruit extracts which has been designed to provide a broad spectrum of flavonoids with scientifically demonstrated antioxidant activity. These herbs and fruits have been renowned throughout the world for centuries for their ability to maintain optimal well being.
Features:
Antioxidants for the maintenance of good health
Plant-based Flavonoid Formula
Vegetarian / Vegan
Corn free, egg free, soy free
Directions:
Adult Dosage: Take 2 Veg Capsules twice daily with food. Consult a health care practitioner for prolonged use beyond 12 weeks.
Ingredients:
Each capsule contains:
Green Tea extract (Camellia sinensis) 100 mg (Containing 40% Catechins and 8% Caffeine)
Milk Thistle Seed/Fruit extract (Silybum marianum) (80% Silymarin) 50 mg
Tumeric (Curcuma longa Root Extract) 50 mg (Standardized to contain 95% curcuminoids)
Quercetin (from Quercetin Dehydrate) 50 mg
Bromelain (Ananas comosus) (Stem) 30 mg (1,080,000 FCC PU)
Cranberry Concentrate (Vaccinium macrocarpon) (Fruit) (25:1) 10 mg
Rosemary Leaf (Rosmarinus officinalis) (5:1) 25 mg
Grapeseed Extract 15 mg (Standardized to contain 90% Total Polyphenols)
Ginkgo Biloba Leaf Extract (24% Ginkgoflavonglycosides) 15 mg
Ginger (Zingiber officinale) (Rhizome) 15 mg
Hawthorn Berry Extract (Crataegus oxycantha) 15 mg
Bilberry Fruit Extract (Vaccinium myrtillus) 10 mg

Non-Medicinal Ingredients:
Veg Capsule (hypromellose, water), Rice Flour, Magnesium Stearate (vegetable source) and Silica.
Caution:
Consult a health care practitioner for use beyond 12 weeks. Consult a health care practitioner prior to use if you have a liver disorder or develop symptoms of liver trouble (such as abdominal pain, dark urine or jaundice), gallstones, a bile duct obstruction, stomach ulcers, excess stomach acid, if you have an iron deficiency or if symptoms persist or worsen. Consult health care practitioner prior to use if you have a history of kidney stones, gastrointestinal lesions/ulcers, are taking anticoagulant agents, cardiac glycosides such as digitalis/digoxin, blood pressure medication, blood thinners, anti-inflammatory agents or antibiotics or before having surgery. Do not use if you are pregnant or breastfeeding. Hypersensitivity, such as allergy, has been known to occur; in which case, discontinue use. Nausea, vomiting, and diarrhoea have been known to occur, in which case discontinue use (and consult a health care practitioner).