NOW Foods Super Antioxidants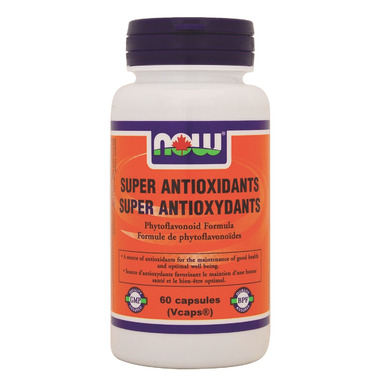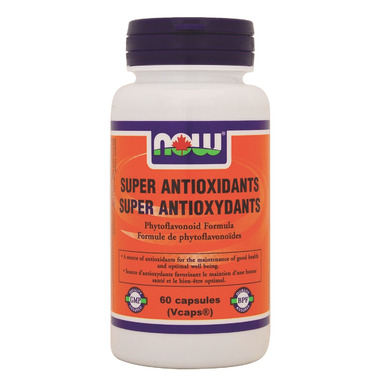 NOW Foods Super Antioxidants
Every cell in our body produces tens of thousands of free radicals on a daily basis. From a long-term perspective, the oxidation that inevitably results can have a devastating effect on the integrity of our healthy cells. NOW Super Antioxidants are comprised of the most powerful oxidation quenching nutrients available today. Countering the effects of oxidation provides us with greater amounts of energy, increased stamina, and a better state of overall health. This distinctive blend of these highly effective free radical fighters can play a substantial role in warding off some of life's most damaging toxins.
Suggested Usage: As an herbal dietary supplement, take 2 capsules 1 to 2 times daily.
Medicinal Ingredients:

Green Tea extract (Camellia sinenis) (40% catechins) 200 mg
(Contains 8 mg of Caffeine)

Milk Thistle extract (Silybum marianum) (80% Silymarin) 100 mg

Curcumin extract (Curcuma longa) (min. 90% extract) 100 mg

Quercetin 100 mg

Bromelain (from pineapple) (2000 GDU) 100 mg

Cranberry Powder extract 100 mg

Rosemary extract (Rosmarinus officinalis) 100 mg

Grapeseed extract (90% polyphenols) 30 mg

Ginkgo Biloba extract (24% ginkgoflavonglycosides) 30 mg

Ginger Root (Zingiber officinalis) 30 mg

Hawthorn Berry extract (Crataegus oxyacantha) 30 mg
(1.8% vitexin-2'-Rhamnoside)

Bilberry standardized extract (Vaccinium mytillus) 20 mg

Other Ingredients: Cellulose (capsule), Rice Flour, Magnesium Stearate (vegetable source) and Silica. Vegetarian Formula.
Free of: Sugar, salt, yeast, wheat, gluten, corn, soy, egg or milk or preservatives.