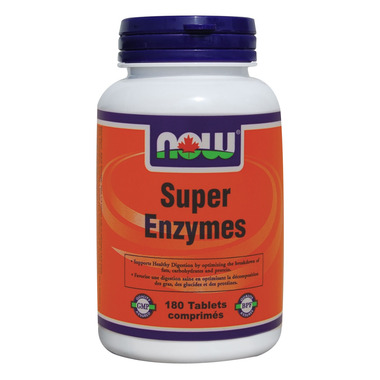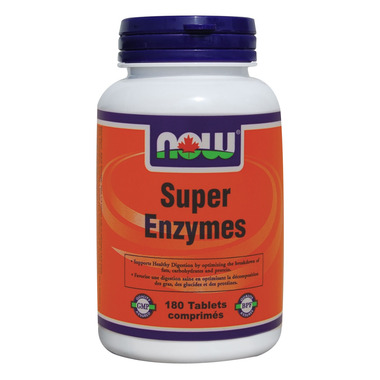 NOW Super Enzyme tablets are a comprehensive blend of enzymes that support healthy digestive functions. Bromelain, Ox Bile, Pancreatin and Papain have been formulated to optimize the breakdown of fats, carbohydrates and protein for maximum assimilation.
Features
Supports Healthy Digestion
Breaks down Fats, Carbs & Protein
Optimizes Nutrient Uptake
A Dietary Supplement
Medicinal Ingredients:
Betaine Hydrochloride 205 mg
Pancrealipase (Sus scrofa-Pancreas) 80 mg
Supplying: Amylase 20,000 USP units
Protease 20,000 USP units
Fruit Bromelain 50 mg (120 GDU; 1800 M FCC PU)
Papain (Carica papaya) (Whole Plant) 2 mg (100,000 FCC PU)
Cellulase (Aspergillus niger) (Whole Plant) 0.13 mg (9.75 FCC CU)
Pepsin A (Sus scrofa) (Stomach) 50 mg (500 000 FCC PU)
Supplying: Cholic Acid 45 mg
Papaya (Carica papaya) (fruit) 45 mg
Non-Medicinal Ingredients: Microcrystalline Cellulose, Calcium Carbonate, Hyprolose, Pharmaceutical Glaze, Silica, Magnesium Stearate (vegetable source), Stearic Acid (vegetable source) and Croscarmellose Sodium. Contains sulfites.
May contain lactose (milk) as processing aid
Contains no: sugar, salt, starch, yeast, wheat, gluten, corn, soy, egg, shellfish or preservatives.
Adult Dosage: Take 1 tablet 1-3 times daily with or immediately before a meal/food. Swallow whole. Do not crush or chew. Use the smallest effective dose which controls symptoms. Consult a health care practitioner for use beyond 4 weeks.