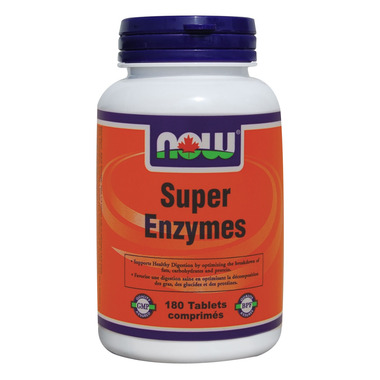 180 Tablets
NOW Foods Super Enzymes
is rated out of
5
by
17
.
---
Description
For when your stomach needs that extra boost or you just want to make the most of the food you need. NOW® Super Enzymes is a comprehensive blend of enzymes that supports healthy digestion. Formulated with Bromelain, Ox Bile, Pancreatin and Papain, Super Enzymes helps to optimize the breakdown of fats, carbohydrates and protein
maximum assimilation

.
NOW Super Enzyme tablets are a comprehensive blend of enzymes that support healthy digestive functions. Bromelain, Ox Bile, Pancreatin and Papain have been formulated to optimize the breakdown of fats, carbohydrates and protein for .
Features
Enzymes to aid digestion
Comprehensive formula
Breaks down Fats, Carbs & Protein
Optimizes Nutrient Uptake
Convenient Tablet Delivery
Medicinal Ingredients:
Betaine Hydrochloride 205 mg
Pancrealipase (Sus scrofa-Pancreas) 80 mg
Supplying: Amylase 20,000 USP units
Protease 20,000 USP units
Fruit Bromelain 50 mg (120 GDU; 1800 M FCC PU)
Papain (Carica papaya) (Whole Plant) 2 mg (100,000 FCC PU)
Cellulase (Aspergillus niger) (Whole Plant) 0.13 mg (9.75 FCC CU)
Pepsin A (Sus scrofa) (Stomach) 50 mg (500 000 FCC PU)
Supplying: Cholic Acid 45 mg
Papaya (Carica papaya) (fruit) 45 mg
Non-Medicinal Ingredients: Microcrystalline Cellulose, Calcium Carbonate, Hyprolose, Pharmaceutical Glaze, Silica, Magnesium Stearate (vegetable source), Stearic Acid (vegetable source) and Croscarmellose Sodium. Contains sulfites.
May contain lactose (milk) as processing aid
Adult Dosage: Take 1 tablet 1-3 times daily with or immediately before a meal/food. Swallow whole. Do not crush or chew. Use the smallest effective dose which controls symptoms. Consult a health care practitioner for use beyond 4 weeks.

Highlights

Shipping & Returns
Rated

5

out of

5
by
Mike
from
A while back I was having alot of stomach problems, I was always having a full feeling, I went to the walk in doctor at my clinic and was told my problem was too much stomach acid and I was put on acid inhibitors. The problem didn't go away so I went to my regular doctor who sent me for a stomach socpe and everything was ok but again I got to hear about stomach acid. I did some research and found out too little stomach acid can produce the same symptoms as too much acid. I started to look for something to increase my stomach acid and found this product and gave it a try and I've been using it for 4 months and my stomach problems have improved 100%. Just goes to show you can't always take everything the doctor says as gospel. I highly recommend this product.
Date published: 2011-01-26
Rated

4

out of

5
by
susan
from
Using this on the advice of my doctor to add bile salts after gallbladder removal. My stomach had been bothering me for 5 years since the surgery. In the last few months, it became much worse. However, now since taking the Super Enzymes, my stomach is so much better. As a matter of fact, in the three weeks or four that I've been taking it, I've had hardly any stomach discomfort. I think I have found the answer to my stomach misery. I hope it continues.
Date published: 2012-06-25
Rated

5

out of

5
by
sophie
from
I've started using Now Super Enzymes as part of an arsenal against IBS/GERD, diet I feel is important, as are multiple small meals, exercise, and managing stress. I've tried various supplements, most have caused more problems than they have solved. When starting a new treatment, patience is key. As things stand, these enzymes are helping, less cramping, less spasms, less reflux. They are not causing unpleasant side effects. That in itself is a step forward. I am cautious and in the end only time will tell, but all seems good.
Date published: 2017-08-17
Rated

5

out of

5
by
Liz
from
I had Gall Bladder surgery many years ago and had countless issues with my digestive system, until I started taking Super Enzymes. I take one whenever I consume foods high in fats and am amazed at the difference in the way I feel. I am so grateful to have found this product and to have it so readily available to me.
Date published: 2016-04-29
Rated

5

out of

5
by
Cindy Bean
from
These tablets are the best. I use them for heart burn and acid reflux. I have recommended them to people that get heartburn with hangovers, they work great for that too. I really missed them for the whole year they were not on the shelves. CAPSULES DO NOT work for me. Thanks for bringing them back.
Date published: 2013-10-26
Rated

5

out of

5
by
Ms.Maggie
from
Great product
I take a Super Enzyme with each meal and it has made such a difference in my digestion as it has all the enzymes in it to help digest my food.. no more tummy aches after I eat. I have also gotten a few friends to take this product, it is proven to be the best for me.
Date published: 2020-02-05
Rated

5

out of

5
by
JANICE
from
Excellent product. Was on acid reflux meds for 30 yrs and got off them. But left with an inability to cope with digesting a whole foods plant base diet. The enzymes and added Ox bile did wonders and I can digest everything fine.
Date published: 2019-10-03
Rated

3

out of

5
by
JM
from
The size of the pills was an issue...had stomach problems while on it...but then again I am on alot of medications so mixing the 2 didn't work...although what I read about it sounded like it could help but can't take it....
Date published: 2012-05-18