NOW Foods Super Odourless Garlic
With Hawthorn & Cayenne
90 Capsules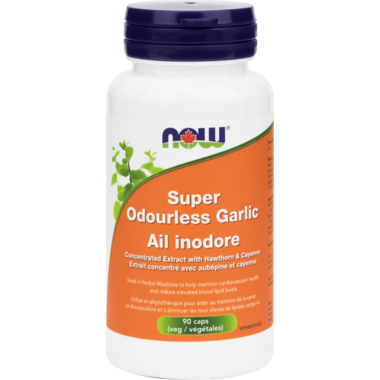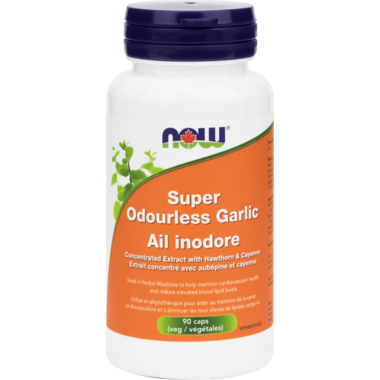 NOW Foods Super Odourless Garlic
With Hawthorn & Cayenne
90 Capsules
NOW Foods Super Odourless Garlic is extracted from Allium sativum, the garlic bulb. This Odourless Garlic extract is aged for 18 months, is highly purified, and has been deodorized while maintaining the nutritional value of garlic. Garlic is abound with naturally occurring sulfur compounds, amino acids and trace minerals. NOW has included standardized Hawthorn Extract, Hawthorn Berry and Cayenne Pepper to round out this health supporting formula.
Features:
Used in Herbal Medicine to help maintain cardiovascular health and reduce elevated blood lipid levels
Concentrated Extract with Hawthorn & Cayenne
Vegetarian / Vegan
Egg free, soy free
Directions:
Adult Dosage: Take 1 capsule twice daily.
Ingredients:
Each capsule contains:
Odourless Garlic (Allium sativum) (Bulb) 50 mg (12.5:1 Concentrated Extract from Whole Clove Garlic)
Hawthorn Extract (Crataegus laevigata and/or monogyna) 100 mg (6:1 Concentrated Extract from leaves and flowers)
Hawthorn Berry (Crataegus laevigata) (Fruit) 250 mg
Cayenne Pepper (Capsicum annuum) (Fruit) (40M SHU) 100 mg
Non-Medicinal Ingredients:
Veg Capsule (hypromellose, water).
Caution:
Consult a health care practitioner prior to use if you are pregnant or breastfeeding, if you are taking blood thinners, blood pressure medication, protease inhibitors, or cardiac glycosides such as digitalis/digoxin, or if you have diabetes, stomach ulcers or inflammation. Consult a health care practitioner if symptoms persist or worsen. Hypersensitivity (e.g. allergy) has been known to occur; in which case discontinue use