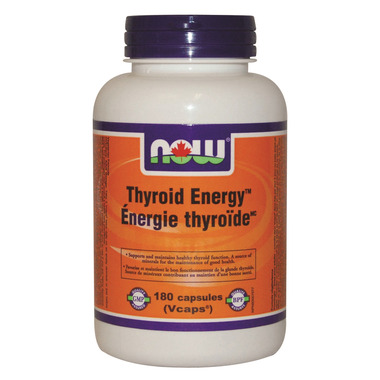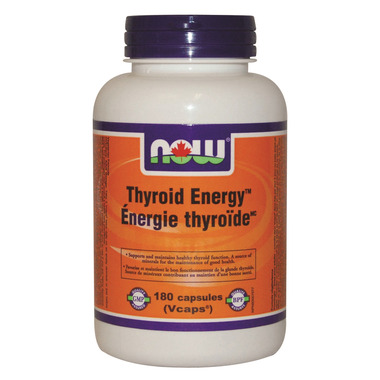 NOW Thyroid Energy is a complete nutritional supplement for the support of healthy thyroid function. NOW has combined Iodine (from Kelp) and Tyrosine, the two integral constituents of thyroid hormone, with the minerals Selenium, Zinc and Copper, to assist in its production. In addition, NOW Thyroid Energy contains Guggul Extract, an Ayurvedic herb known for its ability to support a healthy metabolism.

Features:
Thyroid Support
Supports Healthy Thyroid Function
Supports Healthy Metabolism
A Dietary Supplement

Nutritional Facts: Per 2 Capsules
Vitamin B-6 (from Pyridoxine HCl) 2 mg
Folate (as Folic Acid) 400 mcg
Vitamin B-12 (as Methylcobalamin) 60 mcg
Iodine (from Kelp and Irish Moss) 225 mcg
Zinc 25 mg
Selenium (from L-Selenomethionine) 50 mcg
Copper (from Copper Amino Acid Chelate) 1 mg
L-Tyrosine (Free-Form) 1,000 mg
Irish Moss (Chondrus crispus) (Thallus) 200 mg
Guggul (Commiphora mukul) 75 mg
Organic Kelp (Laminaria digitata) 60 mg
Ashwagandha (Withania somnifera) 50 mg
Trace Mineral Concentrate 5 mg
Other Ingredients: Cellulose (capsule), Magnesium Stearate (vegetable source), Cellulose and Silica.

Contains no: sugar, salt, wheat, gluten, soy, milk, egg or preservatives.