NOW Foods Turmeric & Bromelain Extract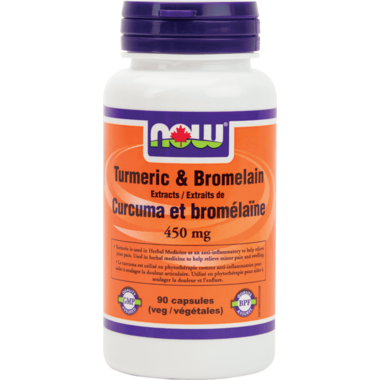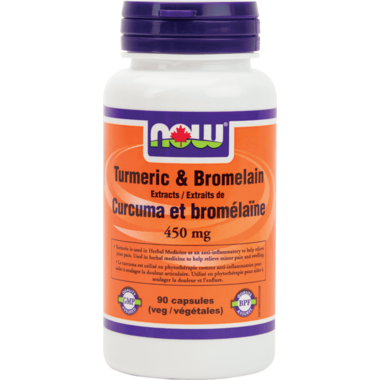 NOW Foods Turmeric & Bromelain Extract
NOW Foods Turmeric & Bromelain Extract is a botanical combination created to support healthy joint tissue. Scientific studies have shown that the curcuminoids from Turmeric can help to support the proper activity of critical enzymes naturally present during biological stress. Studies on Bromelain, an enzyme derived from pineapple, indicate that it may reinforce normal immune system response. NOW combines Turmeric and Bromelain to help maintain healthy joint tissues faced with occasional overstress or day-to-day use.
Features:
Turmeric is used in Herbal Medicine as an anti-inflammatory to help relieve joint pain
Used in herbal medicine to help relieve minor pain and swelling
Standardized Extracts
Vegetarian / Vegan
Corn free, egg free, soy free
Hexane free
Directions:
Adult Dosage: Take 1 capsule twice daily with food. For prolonged use, consult a health care practitioner.
Ingredients:
Each capsule contains:
Turmeric Root Extract (Curcuma longa Root) 300 mg (standardized to contain 95% curcuminoids)
Stem Bromelain (from Ananas comosus var. Comosus) 150 mg (standardized to contain 5 400 000 FCC PU)
Non-Medicinal Ingredients:
Veg Capsule (hypromellose, water), Stearic Acid (vegetable source), Magnesium Stearate (vegetable source) and Silica.
Caution:
Consult a health care practitioner prior to use if you are pregnant or
breastfeeding, if you have stomach ulcers or excess stomach acid, gallstones or a bile duct obstruction, a gastrointestinal lesion/ ulcer, are taking an anticoagulant/blood thinner, anti-inflammatory or antibiotic, or are having surgery. If symptoms worsen, consult a health care practitioner. Hypersensitivity (e.g. allergy) has been known to occur; in which case, discontinue use. Some people may experience mild gastrointestinal disturbances such as diarrhea, abdominal pain, heartburn, nausea and vomiting; in which case, discontinue use.