NOW Foods
NOW Foods Vitamin B-2 Riboflavin 100 mg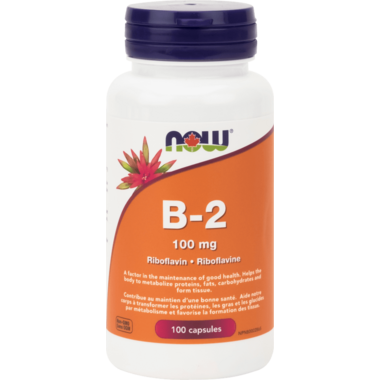 NOW Foods
NOW Foods Vitamin B-2 Riboflavin 100 mg
100 Capsules
NOW Foods Vitamin B-2 Riboflavin 100 mg
is rated out of
5
by
11
.
---
Description
In today's society, our food goes through any number of processes before reaching the plate, with many of foods natural benefits being lost or weakened along the way. Vitamin B-2, also known as Riboflavin, is a member of the B-vitamin family. It occurs naturally in green vegetables, liver, kidneys, wheat germ, milk, eggs, cheese and fish. Because food processing depletes many naturally occurring nutrients, supplementation is key to insure adequate intake of this important vitamin.
Suggested Usage:
As a dietary supplement, take 1 capsule daily with a meal.
Highlights

Features
Maintains Good Health

Helps metabolize proteins, fats, carbohydrates

Aids tissue formation

Capsule delivery improves absorption

Ingredients
Each capsule contains: Vitamin B2 (Riboflavin) 100 mg. Non-Medicinal Ingredients: Rice Flour, Capsule (gelatin, water), Magnesium Stearate (vegetable grade), Silica.
Shipping & Returns
Rated

5

out of

5
by
YulGirl
from
Well to the rescue!
My neurologist prescribed B2 to help with my migraines. However, it would seem that this is a pretty hot commodity, and B2 is almost impossible to find in Québec. Fortunately, Well has properly sourced, quality B2 available at competitive prices. This product is as good as any I got from behind the counter at my local pharmacy, and it was quickly delivered directly to my front door. I would definitely buy this again.
Date published: 2020-11-30
Rated

4

out of

5
by
Elsa
from
Mostly great
Tried this brand of B2 when my usual one became temporarily unavailable. Easy to swallow. More affordable compared to my usual brand. My only concern is several bottles, including this current one, had 1-3 empty capsules or capsules that came apart in my weekly pill organizer or the bottle itself. I've not experienced this with any other supplement before! Aside from that I'm thankful to have found this brand option because vitamin B2 is difficult to find in pharmacies and stores.
Date published: 2021-09-21
Rated

5

out of

5
by
Willa
from
Seems to do the trick.
My pharmacist recommended vitamin B-2 for headache prevention. It seems to work.... he said take 400g a day so I take 1 or 2 pills at each meal. I can't say I had terrible headaches, but they were definitely a bother. I'll keep using vitamin B-2 as it seems to do the trick! This brand seemed well priced.
Date published: 2020-09-16
Rated

5

out of

5
by
Nad
from
good product
I'm taking these for migraines and I think it's working.
Date published: 2020-01-28
Rated

5

out of

5
by
sandyb
from
I was skeptical
My neurologist asked if I had heard of Vitamin B2 for migraines. I hadn't, but said I would try anything for some relief. I found that Vitamin B2 wasn't readily available in several drug stores. My daughter suggested I try to find them at well.ca. They are readily available. So thankful because my migraines have become fewer and fewer. Thank you well.ca
Date published: 2022-02-10
Rated

2

out of

5
by
Cor
from
Disappointed
After all the reviews about this helping with peoples headaches and migraines I was really hoping it would help me. After two months I have had no results. Nothing better. But I tried!
Date published: 2020-04-23
Rated

3

out of

5
by
Cor
from
Not sure yet!
I started taking these a few weeks ago to see if it would help with my headaches and migraines. I haven't noticed a difference yet. It's still early.
Date published: 2020-03-15
Rated

5

out of

5
by
Mary-Ann
from
For headsches
It works. What can I say. A specialist for migraines prescribed it and said it might work. I'm happy to say it really helps.
Date published: 2022-06-27