Nutiva Organic Virgin Coconut Oil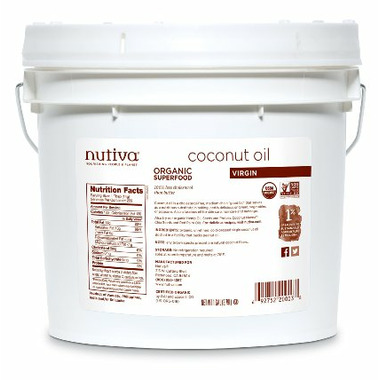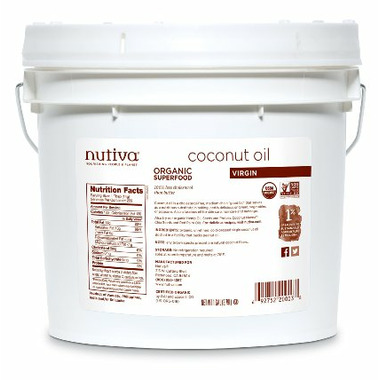 Nutiva Organic Virgin Coconut Oil
This Nutiva Organic Virgin Coconut Oil comes in a 1 Gallon pail which is an excellent size who those looking for bulk coconut oil.
Nutiva's cold-pressed, Organic virgin coconut oil features a light taste, pleasant aroma and pure white colour.
Coconut oil is about 50 percent lauric acid, a rare medium-chain fatty acid found in mother's milk that supports healthy metabolism and is now being studied for its anti-fungal, anti-viral, and anti-bacterial, health-protecting properties. Overall, coconut oil contains 92% saturated fats, and only 1% Omega-6,.
Features:
Certified organic
Non-GMO
Made from fresh coconuts, not dried copra
Cold-pressed
Unrefined
Chemical-free
Unfermented*
Unbleached
Undeodorized
Unhydrogenated
No Solvents
Pure white like fresh coconut
Tastes like fresh coconut
Has a fresh coconut fragrance
Made with their Fresh Is Best™ commitment
Coconut Oil Ingredients:
Organic virgin coconut oil
Please Note:
Nutiva's Organic Extra-Virgin coconut oil is solid at room temperature and melts at 76°F. No refrigeration required. Also, any tiny brown specks found at the bottom of Nutiva's Coconut oil are from the coconut fiber and are indigenous to extra-virgin coconut oil.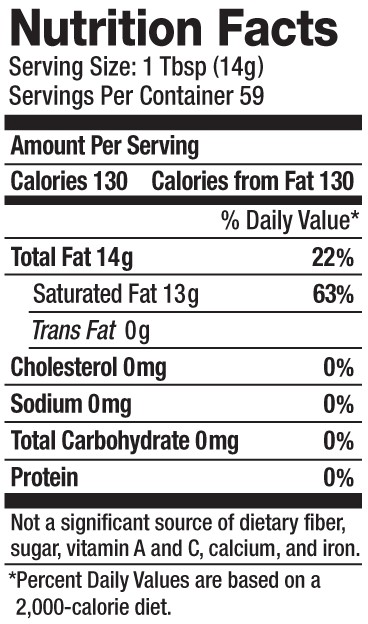 Bottled in a facility that packs peanut oil.