Nutribar Original Vanilla Shake Powder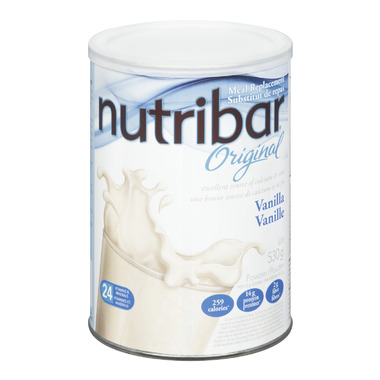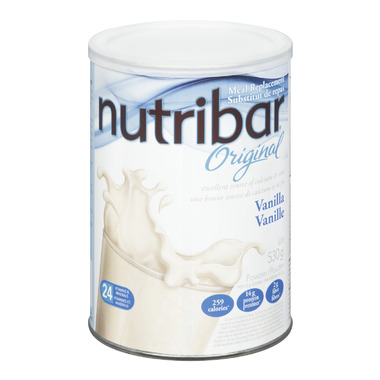 Nutribar Original Vanilla Shake Powder
Mixes easily into a thick and creamy shake with true vanilla flavour.

You do your best to eat healthy most of the time, but with your hectic lifestyle, you don't always have time to prepare a healthy meal. That's why there's Nutribar Original. It has all the nutrients you need in a meal, and it's available in a convenient bar or luscious shake. Nutribar has taken all the guesswork out of what you eat by counting the calories and grams of protein, fat and carbohydrates for you. Nutribar helps take care of your nutrition so that you have time to take care of everything else. So you can still make that 12:30 meeting or pick up the kids on time without having to worry about eating nutritiously.

Ingredients: Skim Milk Powder, Sugar, Whey Protein Concentrate, Fructose, Dextrose, Corn Bran, Soy Protein Isolate, Soy Lecithin, Soybean Oil, Sweet Dairy Whey, Silicon Dioxide, Carrageenan, Salt, Artificial Flavours.

Vitamins & Minerals: Magnesium Oxide, Sodium Ascorbate, Ferric Orthophosphate, Niacinamide, Vitamin E Acetate, Manganese Sulfate, Zinc Oxide, Copper Carbonate, Molybdenum Amino Acid Chelate, Chromium Amino Acid Chelate, Selenium Amino Acid Chelate, Calcium D-Pantothenate, Pyridoxine Hydrochloride, Thiamin Mononitrate, Vitamin A Palmitate, Folic Acid, Potassium Iodide, Biotin.