Nuun All Day Vitamin Enhanced Hydration Tabs Tangerine Lime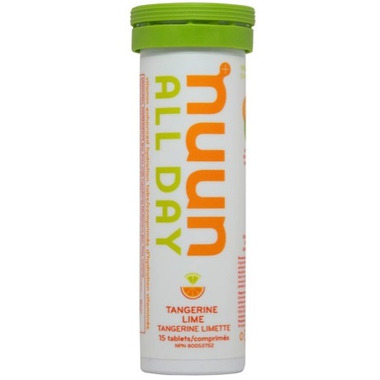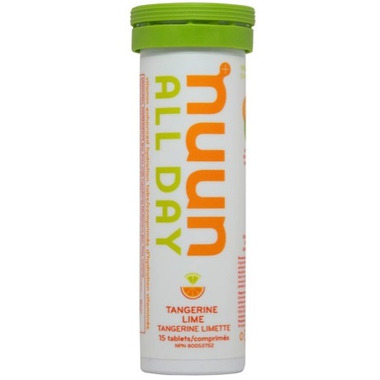 Nuun All Day Vitamin Enhanced Hydration Tabs Tangerine Lime
- We're sorry, this product is no longer available!
- Shop for other products in: General

So many of us are chronically dehydrated, or do not meet the necessary recommendations for a daily consumption of water. Nuun All Day was created to help increase the consumption of water, while providing a moderate blend of various vitamins and minerals to increase energy and fill in gaps that may exist within a normal diet.

Features:

By adding flavor and electrolytes to water, you trigger the body's natural reaction to drink more
A moderate blend of vitamins and minerals to promote a more consistent intake of water + vitamins & minerals
17 vitamins and minerals
Under 8 calories
No added sugars
Directions:
Adolescents 14-18 year(s) 1.0 tablet daily in water, Adults 1.0 tablet daily in water
Nutrition facts: Serving Size:
1 tablet
Amount Per Serving:
Calories 8, Calories from Fat 0g, Total Fat 0g, Total Carb 1.3g (1%DV), Sugars 0g, Protein 0g
Vitamins & Minerals:
Vitamin A (as retinyl acetate) 750 IU (15%DV)Vitamin C (as ascorbic acid) 60mg (100%DV), Vitamin D (as cholecalciferol) 200 IU (50%DV), Vitamin E (as dl-tocopheryl acetate) 15 IU (50%DV), Thiamin (as thiamine mononitrate) 750mcg (50%DV), Riboflavin (as riboflavin) 850mcg (50%DV), Niacin (as niacinamide) 10mg (50%DV), Vitamin B6 (as pyridoxine HCI) 1mg (50%DV), Vitamin B12 (as cyanocobalamin) 3mcg (50%DV), Pantothenic Acid (as D-calcium pantothenate) 5mg (50%DV), Magnesium (as magnesium oxide) 20mg (5%DV), Zinc (as zinc sulfate) 750mcg (5%DV), Selenium (as selenium chelate) 3.5mcg (5%DV), Manganese (as manganese gluconate) 100mcg (5%DV), Chromium (as polynicotinate) 6mcg (5%DV), Sodium (as sodium bicarbonate) 60mg (3%DV), Potassium (as potassium bicarbonate, potassium carbonate) 200mg (6%DV). Percent Daily Values (DV) are based on a 2,000 calorie diet.

Other Ingredients:
Citric Acid, Sorbitol, Natural Flavors, Stevia Leaf Extract, Natural Color, Wheat Germ Oil
Product does not contain: egg, dairy, mustard, peanuts, seafood, sesame, soy, sulfites, tree nuts