Orange Naturals Bumps + Bruises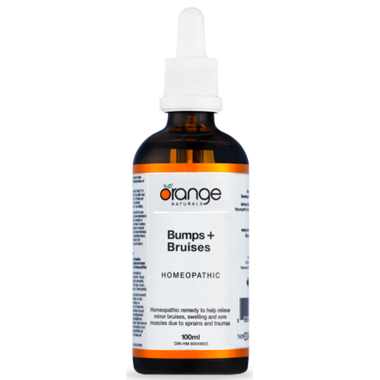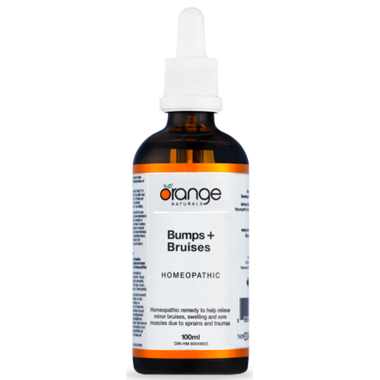 Orange Naturals Bumps + Bruises
Orange Naturals Bumps + Bruises can help clean minor injuries. This homeopathic remedy is a must for everyone's first aid kit. It will come to the rescue of minor bruises, swelling and sore muscles due to strains and sprains from tumbles and rumbles. Pull out the ice pack and your Orange Naturals Bumps + Bruises remedy and it will soothe away all your bumps and bruises or aches and pains away.
Keep this remedy close at hand at home or on the sport's field. It's the next best thing to a kiss for soothing all your bumps, bruises, aches and pains.
Benefits:
Helps to relieve minor bruises, swelling and sore muscles due to sprains and traumas

Alleviates muscle pain
Reduces pain associate with minor traumas
All natural first aid treatment
Lactose free formulation
No artificial flavors
Vegan
Gluten Free
Ingredients:
Each mL contains:
Aconitum napellus 6CH,
Arnica montana 30CH,
Bellis perennis 6CH,
Hypericum perforatum 6CH,
Ruta graveolens 6CH,
Symphytum officinale 6CH.
Directions:
Ages 12 years and over: for general dosing, take 1ml, 3 times per day under the tongue or in a little water. For acute symptoms, take 1ml every 30-60 minutes (up to 12 times per day). When symptoms improve, resume general dosing. Shake well before each use.
Warnings:
Consult a healthcare practitioner prior to use if you are pregnant or breastfeeding, and during use if symptoms persist or worsen, or if new symptoms develop. Do not use if seal is broken. Keep out of reach of children.