Orange Naturals Diarrhea for Kids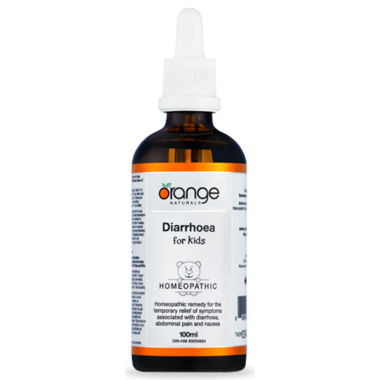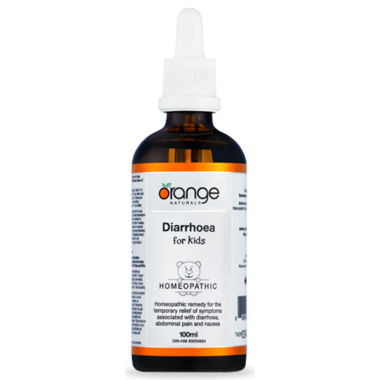 Orange Naturals Diarrhea for Kids
Good news is Orange Naturals Diarrhea for Kids brings relief from digestive upsets and diarrhea. It contains a combination of homeopathic remedies to address the various causes of children's diarrhea, ranging from too much sugar and dairy to infectious diarrhea. Keep this homeopathic remedy with you at all times – at home and on family vacations. Diarrhea for Kids settles digestive upset in no time.
Benefits:
For symptoms of diarrhea such as loose or watery stool, frequent passage of stool
Temporary relief of symptoms associated with acute gastrointestinal disturbances such as excess flatus or gas, frequent stools, mucous in the stool
Helps to soothe rumbling in the abdomen and fatigue after passing frequent stools
Features:
Liquid format is simple to administer and absorbs quickly
No artificial flavours
Great tasting – in a glycerin base kids will love
Directions: For general dosing, ages 0-11 years: take 0.5 ml, 3 times per day; age 12 years and up: take 1 ml, 3 times per day. For acute symptoms, ages 0-11 years: take 0.5 ml every 30-60 minutes (up to 12 times per day); age 12 years and up: take 1 ml every 30-60 minutes (up to 12 times per day). When symptoms improve, resume general dosing.Take under the tongue or in a little water. Shake well before each use.

Ingredients:
Aethusa cynapium 6X, Argentum nitrium 6X, Calcarea carbonica 6X, Calcarea phosphorica 3X, Chamomilla 3X, Croton tiglium 6X, Ipecacuanha 4X, Mercurius corrosivus 6X, Podophyllinum 3X, Pulsatilla 3X.
Caution:
Consult a healthcare practitioner prior to use if you are pregnant or breastfeeding, and during use if symptoms persist or worsen, or if new symptoms develop. If diarrhea with blood or with a fever higher than 38.5 Celsius occurs, or if your child has signs of dehydration such as decreased urination (fewer than 4 wet diapers in 24 hours in infants or no urine for over 8 hours in older children), increased thirst, absence of tears, sunken eye, grayish skin or sunken soft spot on a baby's head, consult a healthcare practitioner immediately. Consult a healthcare practitioner if you have a serious medical condition. Do not use if seal is broken. Keep out of reach of children.

Gluten free, Soy Free, Nut Free, Kid Safe