Orange Naturals Eye Health Advanced
7.5 mg Lutein
60 Veg Capsules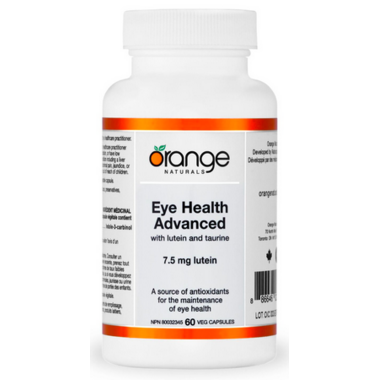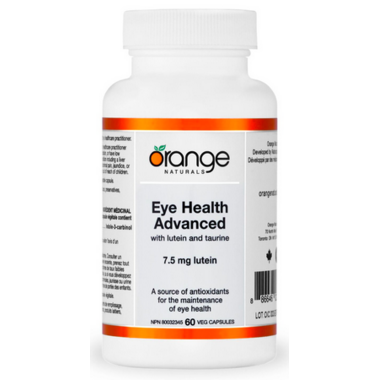 Orange Naturals Eye Health Advanced
7.5 mg Lutein
60 Veg Capsules
Eye Health Advanced is a multi-antioxidant formula combining important, potent antioxidants from natural plant sources to help maintain eye health. Eye Health Advanced delivers a daily dose of 15mg of lutein naturally derived from the marigold flower. Lutein plays a critical role in the maintenance of normal visual function by acting as a powerful antioxidant, thus protecting the eyes from damage caused by light-induced free radicals. Eye Health Advanced has also blended natural flavonoids found in bilberries and grape seed extract for both an enhanced antioxidant effect and to help strengthen the vessels of the eyes and improve circulation.
Recommended Use: Provides antioxidants for the maintenance of eye health.
Directions: Adults: take 2 capsules per day with food. Take a few hours before or after taking other medications. Consult a healthcare practitioner for use beyond 3 months.
Ingredients: Each capsule contains: Marigold (Tagetes erecta Flower extract, 5% lutein) 150mg, Bilberry (Vaccinium myrtillus, 4:1 fruit extract) 150mg, Taurine 120mg, Grape Seed Extract (95% OPCs) 50mg, Zinc (Citrate) 7.5mg, Copper (Citrate) 1mg.
Non-Medicinal Ingredients: Vegetable-grade magnesium stearate, vegetable capsule.
Cautions and Warnings: Consult a healthcare practitioner prior to use if you are pregnant or breastfeeding, or if you have a medical condition.
Contraindications: Do not use if you are allergic to plants of the daisy family.