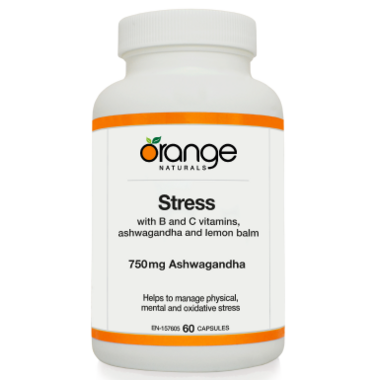 Description
The health effects that result from physical, mental, social or emotional strain should not be underestimated. To help you safely and gently manage the impact of life's demands Orange Naturals offers you its Stress formula. The Stress formula is a combination of vitamins and herbs which can help you to re-build your nutrition, relax your body and mind and rejuvenate your energies. It's a winning combination!
Recommended Use:
Helps to manage oxidative stress and temporarily promotes relaxation.

Directions:
Adults: take 1 capsule, 2 times per day. Consult a healthcare practitioner for use beyond 3 months.
Ingredients:
Ashwagandha (Withania somnifera, 5:1 root extract, 1.5% withanolides) 150mg
Passionflower (Passiflora incarnata, 6:1 herb top extract, 3.5% vitexin) 75mg
Lemon Balm (Melissa officinalis, 8:1 herb top extract, 5% rosmarinic acid) 20mg
Vitamin C (Ascorbic acid) 250mg
Vitamin B1 (Thiamine hydrochloride) 25mg
Vitamin B2 (Riboflavin) 25mg
Vitamin B3 (Niacinamide) 25mg
Pantothenic Acid (Calcium D-pantothenate) 25mg
Vitamin B6 (Pyridoxine hydrochloride) 25mg
Folic Acid 300mcg
Vitamin B12 (Cyanocobalamin) 250mcg
Grape Seed Extract (Vitis vinifera, 120:1 seed extract, 95% proanthocyanidins) 5mg

Pomegranate (Punica granatum, 3:1 fruit extract) 5mg
Non-Medicinal Ingredients: Magnesium stearate, microcrystalline cellulose, colloidal silicon dioxide, gelatin.
Cautions and Warnings: Consult a healthcare practitioner prior to use if you have any chronic conditions, or if sleeplessness persists continuously for more than 3 weeks. Hypersensitivity has been known to occur - discontinue use if so. May cause drowsiness. Exercise caution if operating heavy machinery, driving a motor vehicle, or involved in activities requiring mental alertness.
Contraindications: Do not use if you are pregnant or breastfeeding.
Potential or Known Drug Interactions: Consult a healthcare practitioner prior to use if you are taking any medications. Consumption with alcohol or other medications or natural health products with sedative properties is not recommended.

Highlights

Shipping & Returns