Organika Active Acidophilus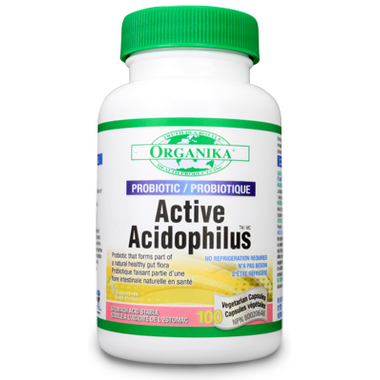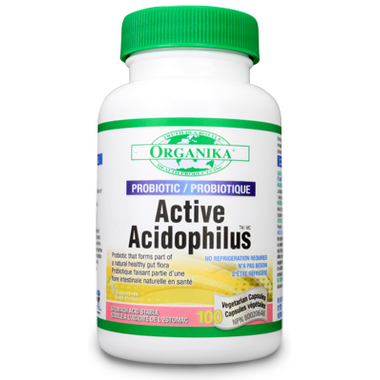 Organika Active Acidophilus
Containing 4.6 billion cfu of Lactobacillus acidophilus, this powerful probiotic helps to form a natural healthy gut flora. Gain the health benefits provided by live microorganisms by taking Active Acidophilus.
Features:
Probiotic that forms part of a natural healthy gut flora
Helps support intestinal/gastrointestinal health
RECOMMENDED DOSE: (ORAL) ADULTS ONLY: Take 1 capsule three times per day with a glass of water. Take at least 2-3 hours before or after antibiotics.

INGREDIENTS:
Lactobacillus acidophilus (HA-122) ................ 4.6 billion cfu*
* colony forming unit
NON-MEDICINAL INGREDIENTS:
Ascorbic Acid, Magnesium Stearate, Silica, Potato Starch, Skim Milk, Sucrose, Hydroxypropylmethylcellulose (Vegetarian Capsule).
CAUTIONS:
Discontinue use and consult a health care practitioner if symptoms of digestive upset (e.g. diarrhea) occur, worsen or persist beyond 3 days. This product has come into contact with milk and soy. Do not use this product if you have milk or soy allergy. Consult a health care practitioner prior to use if you have nausea, fever, vomiting, bloody diarrhea or severe abdominal pain. Do not use if you have an immune-compromised condition (e.g. AIDS, lymphoma, patients undergoing long-term corticosteroid treatment).
CONTAINS NO:
Colours, egg, artificial preservatives, artificial sweeteners, wheat, or gluten.
Please be advised that Well.ca follows manufacturer guidelines for storing & shipping probioti
cs.




MILES:
about a month ago
Absolutely one of the greatest supplements, I have every tried. After supplementing with Organika's Probiotics for a few months, my digestive system created an 'awareness'. I could feel in my stomach which foods where worst ones to consume. For example before the probiotics, there are two pizza places I used to eat from, and both of them digested the same and felt the same. After 6 months of these probiotics, in the middle of the night I could tell which pizza place had higher quality ingredients. I would wake up with an empty feeling, and 'off' feeling from the one pizza place. The same began to happen with products off the shelf at the grocery stores, I could tell which products were terrible quality. After dropping these products from my diet, I experienced a massive increase in skin health and quality, a massive increase in energy and comfort.

Amazing product.
Highly recommended.
Page
1