Organika Beef Bone Broth Protein Powder Ginger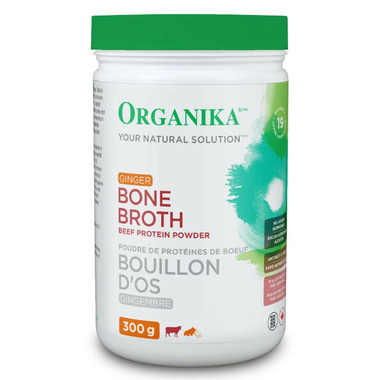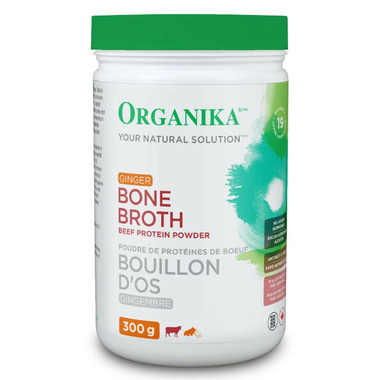 Organika Beef Bone Broth Protein Powder Ginger
Sourced from Grass-Fed cows, Organika's Beef Ginger Bone Broth is anti-biotic and hormone free. Traditionally, Bone Broth is prepared by prolonged boiling of the bones into savoury liquid, which breaks down the collagen releasing the full nutrients. Organika's Bone Broth Protein Powder is simmered 24-48 hours to extract the maximum amount of nutrients. It dissolves evenly and quickly, is high in protein and has no carbohydrates or sugar.
Bone Broth is traditionally known to be rich in vitamins and minerals. to help with the following: maintain psychological health, promotes satiety, supports gut health, IBS, leaky gut, relieve upper and lower respiratory tract infections. Ginger is traditionally known to be helpful for stomach and digestion issues.
Bone Broth Protein Powder is hypoallergenic, low sodium, MSG free, non-GMO, and paleo diet-friendly.
Features:
Your Broth, Your Way
Beef Bone Broth Protein Powder Ginger is great by itself or mixed with your favourite soup, sauce, or stew. Made locally, enjoyed worldwide
Pure and Convenient- saves you time and money.
Naturally contains GAGs (Hyaluronic acid, Chondroitin, Glucosamine).
Tested for all heavy metals, and pesticides.
From pasture raised, grass-fed cows from Sweden.
Ketogenic and Paleo diet friendly.
Directions: Mix 2 tbsp of the broth powder in 12 oz of water or use it in smoothies, broth soups, baking and cooking.
Ingredients:
Beef bone broth, ginger powder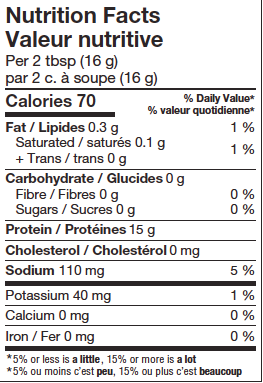 Natural, gluten free, sugar free, peanut free, tree nut free, Canadian, Non-GMO, dairy free, paleo, grass-fed