Organika Chicken Bone Broth Protein Powder Turmeric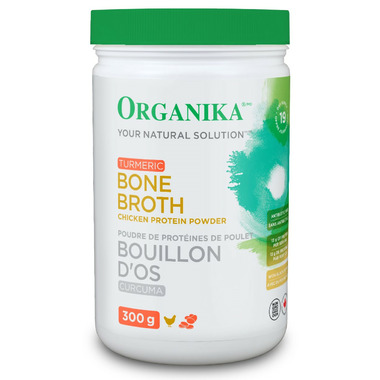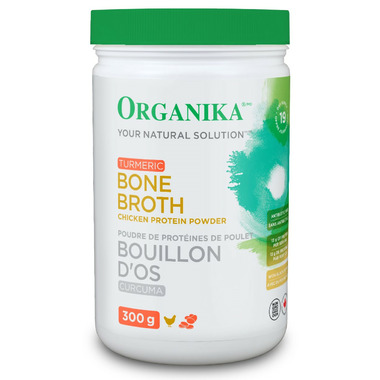 Organika Chicken Bone Broth Protein Powder Turmeric
Traditionally, Bone Broth is prepared by prolonged boiling of the bones into savoury liquid, which breaks down the collagen releasing the full nutrients. Organika® Bone Broth Protein Powder is simmered 24-48 hours to extract the maximum amount of nutrients. It dissolves evenly and quickly, is high in protein and has no carbohydrates or sugar.
Bone Broth is traditionally known to be rich in vitamins and minerals. to help with the following: maintain psychological health, promotes satiety, supports gut health, IBS, leaky gut, relieve upper and lower respiratory tract infections. Turmeric is traditionally known to be helpful for joint, brain and stomach issues.
Black pepper is traditionally used to increase absorption of herbal ingredients like Turmeric.
Bone Broth Protein Powder is hypoallergenic, low sodium, MSG free, non-GMO, and paleo diet-friendly.
Features
:
Your Broth, Your Way
Bone Broth Protein Powder Turmeric is great by itself or mixed with your favourite soup, sauce, or golden milk. Made locally, enjoyed world-wide.
Turmeric Bone Broth with Black Pepper that saves you time and money.
Naturally contains GAGs (Hyaluronic acid, Chondroitin, Glucosamine).
Free of all antibiotics and hormones.
Tested for all heavy metals, and pesticides.
From Cage Free, organic grain fed USA chickens.
Ketogenic and Paleo diet friendly.
Tastes great, convenient, easy to use powder in hot water, golden milk and savoury recipes.
Recommended Dosage:
Mix 2 tbsp of the broth powder in 12 oz of water or use it in smoothies, broth soups, baking and cooking.
Ingredients
: Chicken Bone Broth, Turmeric 1g ,and Black Pepper 500mg.
Natural, gluten free, sugar free, peanut free, tree nut free, Canadian, Non-GMO, dairy free, paleo