Organika
Organika Colloidal Trace Mineral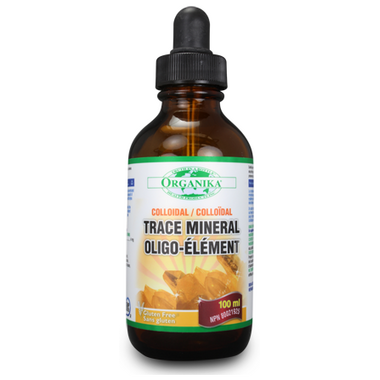 Organika
Organika Colloidal Trace Mineral
Description
Organika's Colloidal Trace Mineral is an aqueous concentrated mineral solution extracted from an ancient antediluvian deposit of natural organic cellulosic material. The naturally occurring fulvic acid content assists the transportation of iron. Not a fan of bulky pills? Enjoy a mild-tasting liquid solution. One tablespoon daily of Organika®'s Colloidal Trace Mineral liquid formula will provide 4 mg of iron.
Features:
Gluten Free
Contains electrolytes and dissolved mineral complexes that support overall metabolism and energy levels in the body
Rich source of iron to help prevent anaemia, regulate blood pressure, etc.
Naturally occurring fulvic acid content helps with the transport of other vitamins and minerals in the body for overall health purposes
CONTAINS NO:
Dairy, egg, yeast, artificial sweeteners, colours,
wheat, soya, gluten, or corn.
Iron (Ferric Phosphate) ........................................................... 4 mg
NON-MEDICINAL INGREDIENTS:
Purified Water, Sodium Benzoate.
Highlights

Shipping & Returns