Organika Milk Thistle Bonus Size
180 + 40 vegetarian capsules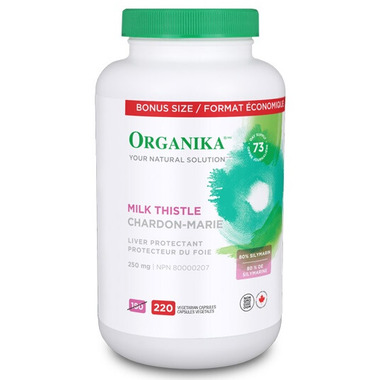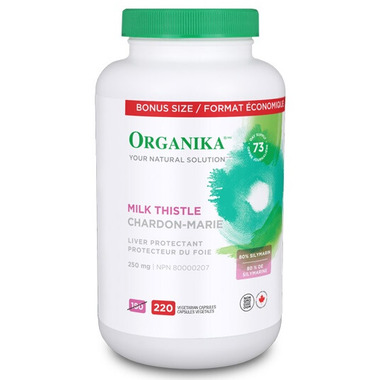 Organika Milk Thistle Bonus Size
180 + 40 vegetarian capsules
If your concern is how to protect and maintain a healthy liver, Milk Thistle
from Organika offers the ideal natural solution.
Organika's Milk Thistle is an effective yet gentle traditional liver protectant. It
comes to you with Organika's assurance of quality, purity and potency, in a
convenient and easy-to-take capsule containing 80% extract providing 200
mg of Silymarin.

Features:

Acts as liver protectant
Helps to improve detoxification and digestion
Sourced from the Silymarin seed for maximum potency and benefit (80% extract)
Seeds source from France
Dosage: Take 1 capsule 3 times per day with a meal. Use for a minimum of 3 weeks to see beneficial effects.
Active Ingredients: Milk Thistle Seed Standardized 80% Extract 250 mg
(Silybum marianum L.) (Providing 200 mg of Silymarin)

Non-Active Ingredients: Magnesium Stearate (Non-GMO Vegetable Source), Microcrystalline Cellulose, Brown Rice Flour, Hypromellose / Pullulan (Vegetarian Capsule).
Caution: Consult a health care practitioner if symptoms persist or worsen. Consult a health care practitioner prior to use if you are pregnant. Hypersensitivity, such as allergy, has been known to occur; in which case, discontinue use.

CONTAINS NO: Dairy, egg, artificial preservatives, colours, yeast, artificial sweeteners, wheat, gluten, corn, soya, or GMO ingredients. Vegan friendly.