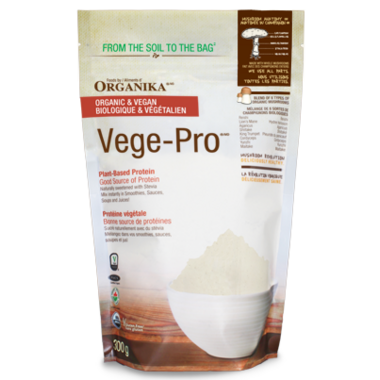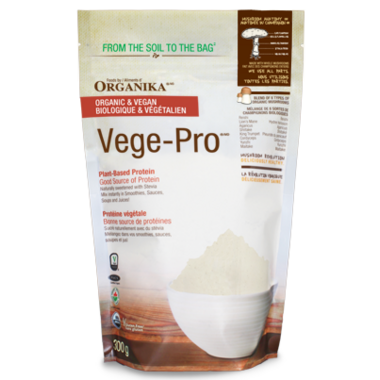 Organika Vege-Pro is the best tasting plant based protein in the market today.

This one of a kind protein powder giving you 19g of protein per serving with 8 different medicinal mushrooms, including an enzyme and pre/probiotic source as well. No artificial sweeteners, no artificial ingredients, and no grit!
Features:

Clean, organic and vegan friendly.
Great for celiacs and those who are lactose intolerant, as well as those who suffer from allergies.
19 grams of organic, plant-based protein from brown rice and hemp per serving.
Source of fibre and calcium for the maintenance of good health.
With enzyme and probiotic blends.
Directions of Use: Mix 3 heaping tablespoons into your favourite juices, smoothies and/or sauces. Dissolves instantly, with no grit!
Ingredients: Organic Rice Protein Concentrate, Organic Hemp Protein Powder, Organic Mushroom Protein Blend [Reishi (Ganoderma lucidum), King Trumpet (Pleurotus eryngii), Lion's Mane (Hericium erinaceus), Cordyceps (Cordyceps militaris), Agaricus (Agaricus blazei), Yunzhi (Trametes versicolor), Shiitake (Lentinula edodes), Maitake (Grifola frondosa)], Organic Inulin Powder, Xanthan Gum, Organic Stevia Leaf Extract, Probiotic Blend (L. acidophilus, B. longum, L. casei, L. rhamnosus), Enzyme Blend (Amylase, Protease, Glucoamylase, Invertase, Diastase, Lipase), Organic Flavours.

Gluten Free, Vegan, Organic, Sugar-free, NON-GMO, Natural, energy efficient, processed in an Organic facility