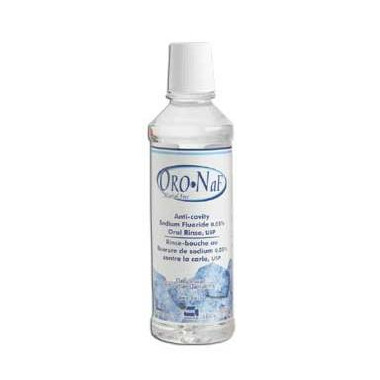 Citrus Mint
500 mL
ORO-Naf Mouth Rinse
is rated out of
5
by
19
.
---
Description
Oro-NaF is beneficial to people of all ages who need strong tooth enamel - particularly patients wearing orthodontic appliances, chemotherapy patients and those who are especially prone to tooth decay. Oro-NaF is an effective and easy way for patients to supplement regular brushing with fluoridated toothpaste and water.

Alcohol Free

Shipping & Returns
Rated

5

out of

5
by
Neil
from
About three years ago my dentist recommended "ORO-Naf Mouth Rinse" to me. I'd always found having my teeth cleaned very painful and as I grew older, receding gum lines etc., the procedure had become so painful that I was forced to ask my dental hygienist to skip the worst of my teeth. Ultrasound must have ben invented by the Marquis de Sade! "ORO-Naf" to the rescue! :-) Now that I'm using "ORO-Naf" daily, having my teeth cleaned now borders on tolerable. The improvement has been remarkable! There have been times when "ORO-Naf" at my local drug store was out of stock. Needless to say, I panicked. Pain is a great motivator! Then I did a bit of browsing and found "ORO-Naf" at Well.ca. My shopping experience at Well.ca was top-notch! And I'm relieved that I've found a reliable source for this product! :-)
Date published: 2013-10-07
Rated

5

out of

5
by
Bea
from
I seem to get cavities just by looking at sweets :-) so I need to use fluoride rinse since my tap water doesn't have fluoride. I was happy to find this at well.ca since the price is much more reasonable than what my dentist was charging. I'm not going to say what my dentist was charging since I'm hoping that well.ca will maintain reasonable pricing of this product :-)
Date published: 2016-05-17
Rated

5

out of

5
by
Sam
from
Scientific evidence supports the claim that a fluoride rinse can help decrease teeth sensitivity. Fluoride helps remineralise teeth surfaces that have been demineralised by bacterial acids. This dentist-recommended fluoride rinse worked for me to considerably reduce teeth sensitivity and pain.
Date published: 2013-06-11
Rated

5

out of

5
by
Cinthia
from
I actually like the taste, I've used some similar products in the past but this one is far the best, I can easily rinse for up to a minute and it won't give me the burning sensation that the other "alcohol free" ones did. No after taste, no burning sensation. Love it !!
Date published: 2012-12-17
Rated

4

out of

5
by
Anne
from
This is a daily use fluoride rinse (0.05% sodium fluoride). I like that it's clear rather than dyed blue or green. I find the flavour while rinsing to be decent but there is a slight bitter aftertaste for a while that is mildly unpleasant.
Date published: 2011-12-29
Rated

5

out of

5
by
Claire
from
Oro-naf is great!
Oro-naf was recommended by my paediatric dentist for my son with weak enamel. It does not have the dyes that other pharmacy fluoride rinses have that can dye children's enamel. My kids love the taste of citrus mint! Fabulous product!!!
Date published: 2021-04-18
Rated

5

out of

5
by
Brian
from
I love the product and use it daily. It costs about half the price on Well.ca compared to what my dentist charged me. I haven't had a cavity in ages, plus it's been a huge cost saving to me. Thank you Well.ca!
Date published: 2016-10-26
Rated

5

out of

5
by
Nursems
from
Have used ORO-NAF for several years, and, love the product and the benefit from the fluoride. Would be nice if the polar ice mint was offered, but the citrus, and/or, black cherry are both nice ..
Date published: 2021-01-27