Oxylent Sparkling Mandarin Canister Powder
Multivitamin Supplement Effervescent Drink
189 g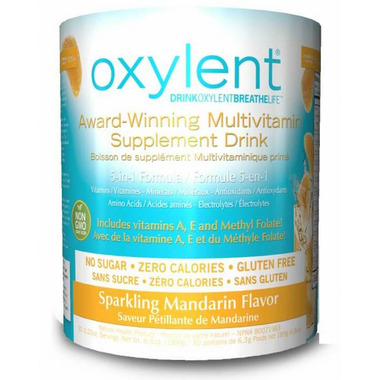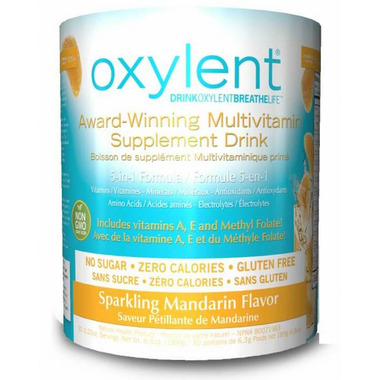 Oxylent Sparkling Mandarin Canister Powder
Multivitamin Supplement Effervescent Drink
189 g
- We're sorry, this product is no longer available!
- Shop for other products in: General

Oxylent is an award winning, 5-in-1 daily multivitamin - all in one refreshing drink! Add a scoop of Oxylent to water and enjoy a sparkling drink that delivers vitamins, minerals, electrolytes, amino acids and antioxidant with easy absorption at home, in the office or at the gym!

Features:
30 servings

5-in-1 formula all in one serving with Vitamins, minerals, antioxidants, amino acids and electrolytes
Superior multivitamin & mineral content, with a full spectrum of essential nutrients

Contains Methyl Folate as 5-MTHF, the most biologically active form of folate

Albion® Chelated Minerals offer better absorption than common minerals

Antioxidant SOD works synergistically with secondary antioxidants such as vitamins C, A & E

Zero calories

No sugar, gluten, dairy, soy, caffeine, GMOs, or anything artificial, safe for diabetics

Adults: 1 level scoop (provided) which is equivalent to 6.3g; children over 5yrs - 1/2 a scoop or 3.2g. Mix with 4-6oz of water or to taste.
Ingredients: Vitamin A (as retinol palmitate, beta carotene), Vitamin C (as calcium ascorbate), Vitamin D (as cholecalciferol), Vitamin E (as d-alpha tocopherol), Thiamin (as thiamine hydrochloride), Riboflavin (as riboflavin-5-phosphate sodium), Niacin (as niacinamide), Vitamin B6 (as pyridoxine hydrochloride), Folate (as 5-methyltetrahydrofolate), Vitamin B12 (as methylcobalamin), Pantothenic Acid (as d-calcium pantothenate), Calcium (as calcium ascorbate, DimaCal dicalcium malate), Iodine (as kelp), Magnesium (dimagnesium malate, magnesium lysinate glycinate chelate), Zinc (Zinc bisglycinate chelate), Selenium (as selenium glycinate complex), Manganese (manganese bisglycinate chelate), Chromium (chromium nicotinate glycinate chelate), Molybdenum (molybdenum glycinate chelate), Sodium (as sodium bicarbonate), Potassium (as potassium bicarbonate, potassium glycinate complex), L-Arginine, Lysine (as lysine hydrochloride), Superoxide Dismutase (SOD), Citrus Bioflavonoids, Coenzyme Q10, Boron (as bororganic glycinate complex) (Bororganic Glycine), Other Ingredients: citric acid, natural fruit flavors, rebaudioside A (stevia leaf extract).
Consult a doctor before taking if pregnant or nursing.