Patience Fruit & Co. Caddy Organic Dried Blueberries Case
Sweetened with Apple Juice
15 x 28g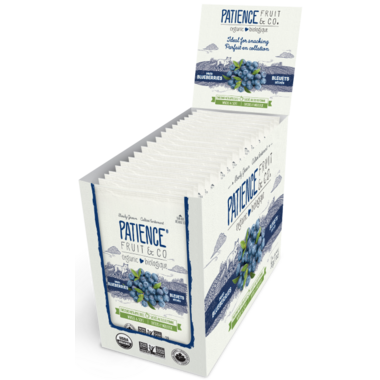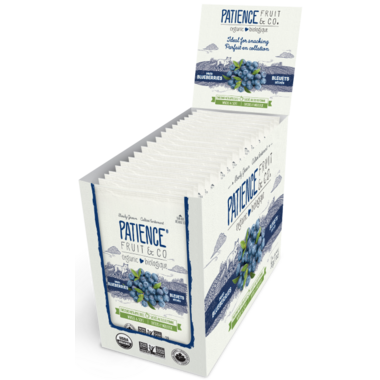 Patience Fruit & Co. Caddy Organic Dried Blueberries Case
Sweetened with Apple Juice
15 x 28g
Your favourite dried fruit now come in handy pouches which are perfect for an on-the-on snack, a healthy addition to your lunch bag or a great salad or smoothie topper!

Their Canadian wild blueberries are simply delicious and nutritious! Bursting with flavour, they are dried slowly to preserve their soft texture and are sure to add an irresistible taste to your breakfasts and snacks!

Patience Fruit & Co. practice organic farming, which means they do not use any genetically modified ingredients, nor any chemical artificial fertilizers or pesticides.

Known for their antioxidant properties, polyphenols are naturally present in wild blueberries and apples. Our dried blueberries are sweetened with apple juice and contain 190 mg of polyphenols per 40 g serving.