Patience Fruit & Co. Organic Chococrunch Bites Dark Chocolate & Coconut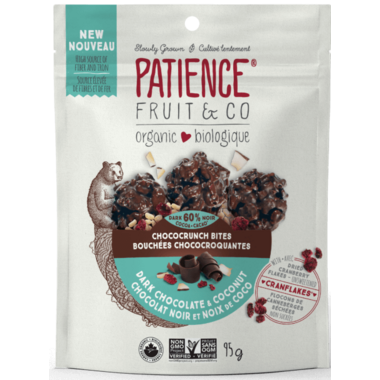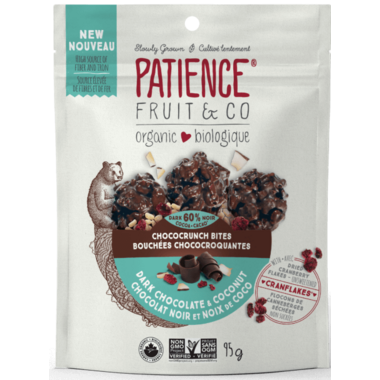 Patience Fruit & Co. Organic Chococrunch Bites Dark Chocolate & Coconut
Chocolate-based, including their delicious Cranflakes® and crunchy brown rice. Cranflakes® are cranberries that are dried slowly under low-temperature conditions. Their special process not only preserves benefits such as fibre and polyphenols, it also makes them a unique unsweetened product on the market. Indulgent snacking at its best, without compromise!
Features:
High source of fiber and iron
Contains 292mg of polyphenols per portion of 40g
Non-GMO Project Verified
Certified Organic
Kosher
Ingredients: Dark chocolate 60% cocoa* (unsweetened chocolate*, sugar*, cocoa butter*), Crispy Brown Rice*, Toasted Coconut Chips*, Dried Cranberries*, Cranberry Seeds* Sea Salt. (*Organic ingredients).
May contain: Peanuts, Tree nuts, Milk, Soy.