Prairie Naturals Avalanche Therapeutic Conditioner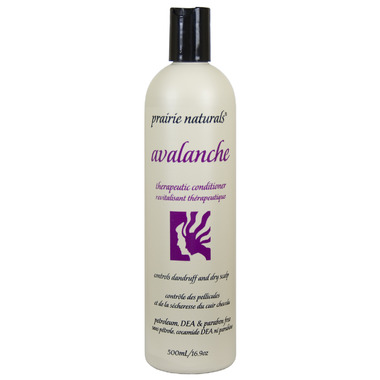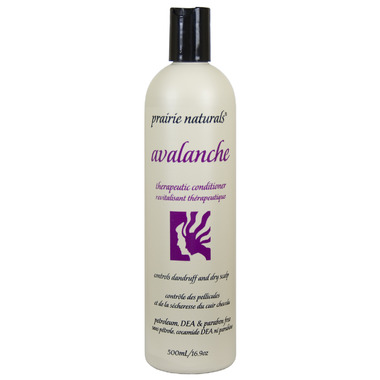 Prairie Naturals Avalanche Therapeutic Conditioner
Avalanche Therapeutic Conditioner moisturizes and conditions the scalp eliminating dandruff and scalp irritation. Concentrated with nutrient-rich botanical extracts, Avalanche Therapeutic Conditioner effectively soothes the itching and flaking associated with dandruff resulting from seborrhea sicca (dry, flaky dandruff) and seborrhea oleosa (oily dandruff).
Features:
Concentrated with nutrient rich plant extracts
Effectively treats itching and flacking resulting from seborrhea sicca (dry, flaky dandruff) and seborrhea oleosa (oily dandruff)
Enriched with pure, natural aromatic oils
For best results use with: Prairie Naturals Avalanche Therapeutic Shampoo

Ingredients: purified water, cetearyl alcohol, glycol stearate, emulisfying plant wax, D-Panthenol( pro-vit B5), aqueous extract of nettles, sea kelp, horsetail, sage, oatstraw, arnica, ascorbic acid, silk animo acids, zinc omadine, magnesium sulicate/selenium, msm crystals, essential oil blend:white pine, eucalyptus and peppermint, vit. E, cysteine/methionne, glucose and glucose oxidase, lactoperoxidase,citric acid,sodium citrate, natural fragrance.

Cat:
about a year ago
Two years ago, I started suffering from itchy scalp and I tried many different products to heal my itchy head. I believe this condition is due to stress. It comes and goes, it would appear in times of high stress (moving, work overload...). Anyway, I have been using this conditioner for about three months now, and I have not suffered any itchy scalp episodes. It's quite a relief.
Amanda:
more than a year ago
I've been using this in combination with their dandruff shampoo and I've had great results. My hair is shiny, beautiful, and well balanced for the first time in my life. I've always struggled with oily hair and dandruff, shampoo usually strips too much oil off my hair and makes it worse. I use this product every day and it's done wonders for me. Smells great too.
Page
1