Prairie Naturals Multi-Force Daily Iron-Free Multivitamin & Mineral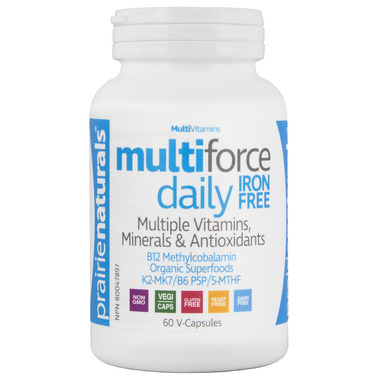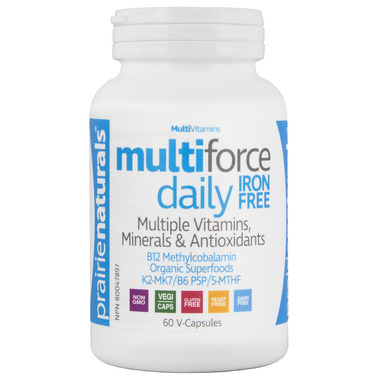 Prairie Naturals Multi-Force Daily Iron-Free Multivitamin & Mineral
- We're sorry, this product is no longer available!
- Shop for other products in: Iron-free

Prairie Naturals Multi-Force™ Daily Iron-Free ensures your daily optimal nutritional needs are fulfilled. Synergistically formulated to deliver a broad spectrum of more than 35 bioavailable vitamins, minerals, enzymes and antioxidants within a natural matrix of three powerful green superfoods - organic green tea, chlorella and spirulina. Researched and designed by a team of Canadian nutritional health experts. Recommended for post-menopausal women and for men with adequate iron. Formulated to reduce stress, support healthy aging and enhance energy.
Features:
Recommended for women (post-menopausal) with normal iron
Recommended for men with normal iron
Supports healthy aging
Promotes immunity
Enhances energy
Reduces stress
Iron-free
Directions:
Take 3 capsules daily.
Medicinal Ingredients:
Based on 1 capsule: Beta- Carotene-2,500 IU, vitamin D3-166.66 IU, Vitmain E-33.3 IU, Vitamin C ( calcium ascorbate)-20mg, Vitamin B1 Thiamine-8mg, Vitamin B2 Riboflaflin-10mg,Niacinamide-10mg, Vitamin B6 Pyridoxine HCL P5P-9.9mg,Vitamin B12 Methylcobalamin333.3mcg, Folate 5-MTHF-333.3MCG,Biotin-55mcg,Pantothenic acid-10mg, Calcium citratecalcium HPV chelate-30.82mg, Magnesium oxice,citrate-25mg, Boron HPV chelate-33.3mcg, Zinc citrate-5mg, Potassium Iodine-100mcg, Manganese -2mg, Copper cupric HPV chelate-33.3mg, Potassium citrate-303mg, Chromium chromic HPV chelate-67mcg, Selenium 33.3mcg,Molybdenum-17mcg, Vanadium-25mcg, Vitamin K2 manquinoe-7-10mcg, Choline bitartrate-10mg,Inositol-10mg, Betaine HCL-20mg, Bromelain(720000FCCPU)-20MG,Organic Chlorella Vulgaris broken cell wall-30mg,Horsetail extract 7& silica-47.14mg, Green tea extract-30mg,PABA-5mg, Organic Spirulina Plantensis 50mg
Non-Medicinal Ingredients:
Mycrocrystalline cellulose, magnesium stearate, silicon dioxide, hypromellose, natural peppermint flavour.
Caution:
Hypersensitivity/allergy, nausea, vomiting and/or diarrhea have been known to occur, in which case discontinue use. Consult a health care practitioner prior to use if pregnant or breastfeeding, if you have a liver disorder, a gastointestinal lesion/ ulcer, or if you are taking anticoagulants/blood thinners, anti-inflammatories or antiboitics, or if you are having surgery.
NON GMO, Gluten Free, Yeast Free, Dairy free