Pranin Organic PureFood A-Z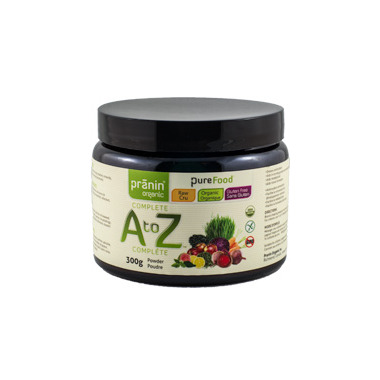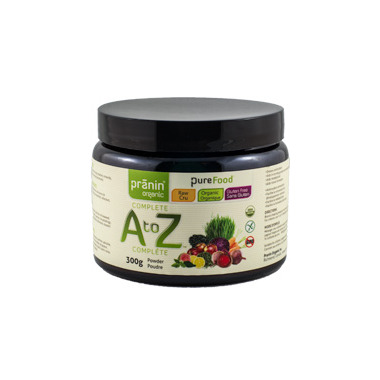 Pranin Organic PureFood A-Z
Pranin Organic PureFood A-Z is a blend of 100% organic, whole food concentrate powders, providing you with essential vitamins and minerals. This product is 100% raw and vegan, made with 25 different fruits vegetables, leaves, and herbs.
Features
:
100% Organic Food
Vegan
Dairy-Free
Soy-Free
Yeast-Free
Gluten-Free
No Synthetic Nutrients
No Added Colours, Flavours, Sweeteners, or Preservatives
Recommended Use:
Blend one heaping teaspoon into your favourite smoothie, juice, or water each day.
Ingredients
: Certified organic moringa leaves, apples, carrots, spirulina, beets, red seaweed, spinach, cabbage, kale, collard, alfalfa leaves, guava leaves, annatto seeds, amla berries, parsley, Portobello mushrooms, Icelandic kelp, cilantro, lemon, holy basil, sesbania, horsetail, mustard seeds.

Each serving of PureFood A to Z contains:
Vitamin A - 179.8 RE - 20%
Vitamin C - 25.5 mg - 45%
Calcium- 349 mg - 30%
Iron - 9.2 mg - 70%
Vitamin D2 - 3.8 mcg - 80%
Vitamin E (Mixed tocopherols & tocotrienols) - 2.4 mg - 25%
Vitamin K1 - 99.4 mcg - 120%
Vitamin B1 (Thiamine) - 1 mg - 80%
Vitamin B2 (Riboflavin) - 1.4 mg - 90%
Vitamin B3 (Niacin) - 2.3 mg- 10%
Vitamin B6 (Pyridoxine) - 2.3 mg - 130%
Vitamin B9 (Folate) - 41 mcg - 20%
Vitamin B12 (Cobalamin) - 2.2 mcg - 110%
Vitamin B7 (Biotin) - 8.7 mcg - 30%
Vitamin B5 (Pantothenate) - 2.1 mg - 30%
Phosphorus - 4.3 mg - 4%
Iodine - 109 mcg - 70%
Magnesium - 79 mg - 30%
Zinc - 3.4 mg - 35%
Selenium - 47.1 mcg - 90%
Copper - 0.05 mg - 2%
Manganese - 0.45 mg - 25%
Chromium - 26.4 mcg - 20%
Molybdenum - 6.9 mcg - 10%
Betaine - 8.8 mg - –
Choline - 28.5 mg - –
Boron - 476 mcg - –
Lithium - 0.5 ppm - –
Strontium - 147 ppm - –
Vanadium - 14.2 mcg - –
Omega 3 - 0.12 g - –
Omega 6 - 0.52 g - –

Organic, Vegan, Gluten Free, Non-GMO, Dairy Free, Peanut Free, Tree Nut Free