Primal Kitchen Lemon Turmeric Vinaigrette & Marinade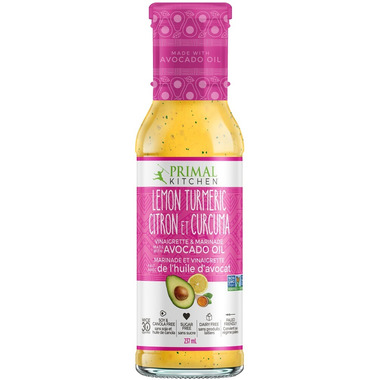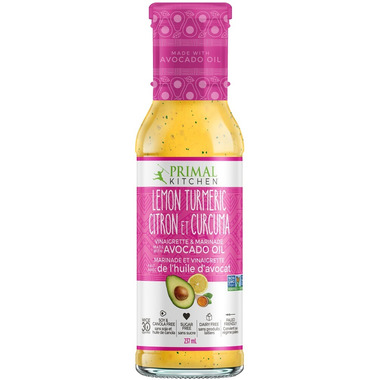 Primal Kitchen Lemon Turmeric Vinaigrette & Marinade
Meet Primal Kitchen's Lemon Turmeric Dressing made with Avocado Oil—a nourishing primal delight with a deliciously diverse flavor profile. Infused with avocado oil containing monounsaturated fats, organic apple cider vinegar, and organic turmeric, this gentle sweet and sour dressing is packed with premium ingredients and unbelievable flavors.

Free of gluten, soy, added refined sugar, and dairy, this dressing is Non GMO-Project Verified and primal to the core. Whether you're a spice lover or simply looking to upgrade your culinary experience, their Lemon Turmeric dressing is the secret weapon for transforming salads, veggie rolls, and sushi creations into delectable masterpieces made with clean, simple ingredients.
Features:

Infused with Monounsaturated Fats from avocado oil
Free of Canola, Sunflower, and Safflower Oils
Paleo, and Keto-Friendly
Non-GMO Project Verified
Ingredients: Avocado Oil, Water, Organic Apple Cider Vinegar, Organic Lemon Juice Concentrate, Organic Garlic Powder, Sea Salt, Organic Onion Powder, Organic Turmeric, Konjac Root, Organic Black Pepper.