Progressive Complete Calcium for Women 50+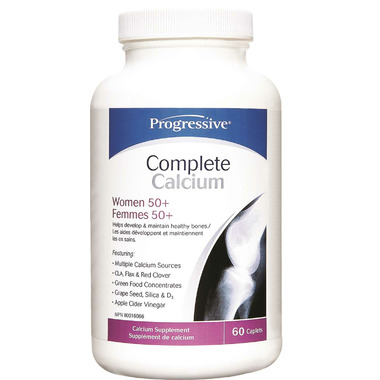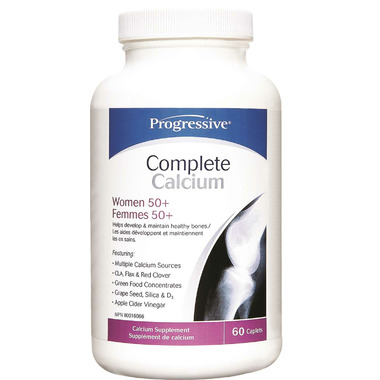 Progressive Complete Calcium for Women 50+
Calcium is an essential component of a healthy diet, especially for women over 50. After menopause, it is not uncommon for women to lose up to 5% of their bone mass each and every year. For this reason, Complete Calcium for Women 50+ has been formulated with additional calcium as well as herbal extracts to help balance hormones.
Features:
Promotes optimal bone health
Decreases calcium excretion associated with low calcium levels
Supports healthy teeth and gums
Helps maintain healthy skin
Balances estrogen levels
Strengthens cardiovascular function
Helps relieve arthritis
Balances pH
Dissolves in 30 minutes for optimal absorption
Key Ingredients:
Multiple Calcium Sources
CLA, Flax, Red Clover
Green Food Concentrates
Grape Seed, Silica & D3
Apple Cider Vinegar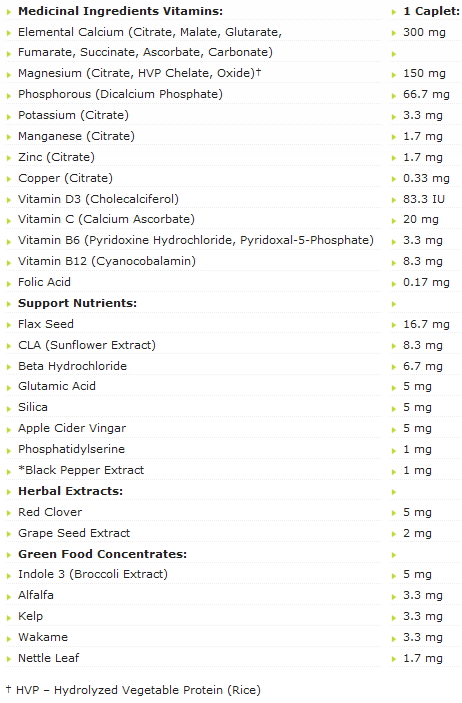 Non-medicinal Ingredients:
Microcrystalline Cellulose, Magnesium Stearate, Silica, HydroxyPropyl MethylCellulose, Carnauba Wax, Purified Water.
Contains no added flavours, colours, sweeteners or preservatives of any kind.

Suggested Use (Adults):
Take 1 caplet with breakfast and 1 caplet with dinner for a total of 2 caplets per day.

Debra:
a few months ago
Although I eat a healthy diet I wanted to make sure that I was getting my calcium. I do not drink milk so adding a supplement was my next bet as I am very active with hill hiking etc. I take one a day just as a proactive measure. This product fits the bill. As an added bonus the other ingredients help to ensure an overall healthy absorption of the mineral.
Page
1