Progressive PhytoBerry Protein
Vanilla Berry Swirl
840 g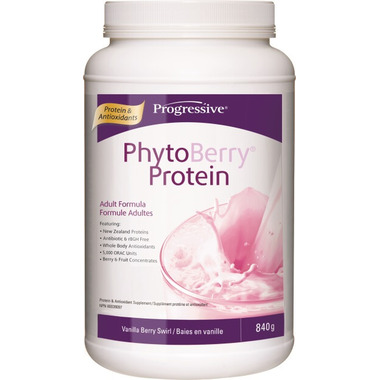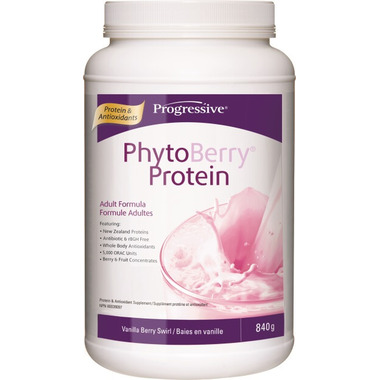 Progressive PhytoBerry Protein
Vanilla Berry Swirl
840 g
PhytoBerry® Protein is a combination of two of our most popular products. It contains the full spectrum of over 40 ORAC rich fruit concentrates, phytonutrients, essential fatty acids and herbal extracts found in PhytoBerry®, along with the strategic blend of 5 New Zealand proteins and complementary support nutrients found in Harmonized Protein®. This means every shake provides 24 grams of the cleanest protein possible along with the nutrient density of 6 to 8 servings of fresh fruit.
Features:
Each serving provides a full serving of both PhytoBerry® and Harmonized Protein®
Featuring over 40 ORAC rich botanical nutrients designed to offer whole body protection along with a strategic blend of 5 New Zealand proteins
Fortified with a complete array of complementary support nutrients
Made with all natural ingredients and completely free of hormones, antibiotics and pesticides
Benefits:

Whole Body Antioxidant® protection
Helps to slow the aging process
Enhances lean muscle growth
Offers exceptional immune support
Improves cardiovascular health
Stimulates and enhances brain function
Protects eye health
Supports the release of growth hormone
Aids in the repair & formation of bone
Enhances the fat burning process
Increases energy
Balances blood sugar levels and helps moderate appetite
Supports healthy digestion
Stimulates the production of glutathione, the body's primary antioxidant, detoxifier and anti-aging factor
Enhances iron absorption
Restores a healthy PH balance
Supports liver & kidney function
Non-medicinal Ingredients: Organic Evaporated Cane Juice Powder, Stevia Leaf Extract, Natural Vanilla and Berry Flavours.

Suggested Use (Adults): Add 1 scoop (40 g) of PhytoBerry® Protein to 200 ml of the beverage of your choice. Consume 1 serving daily or as directed by your health care practitioner.
Cautions: Consult a health care practitioner prior to use if you are taking blood thinners or if you have diabetes, iron deficiency, kidney disease, a history of kidney stones, a liver disorder or develop symptoms of liver trouble. Consult a physician for use beyond 8 weeks. Do not use if you are pregnant, breastfeeding or allergic to cow's milk. May cause gastrointestinal disturbances. Discontinue use if hyperactivity occurs. Piperine may increase the bioavailability of other medications and natural health products.