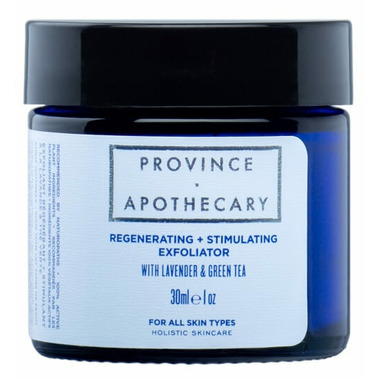 Description
Province Apothecary Regenerating + Stimulating Exfoliator naturally exfoliates and hydrates your skin.
100% Organic ingredients = 100% Natural Skincare
This dry exfoliator is perfect for all skin types. It allows you to chose what works best for your skin, as the seasons change. Mix with: water for a stimulating exfoliation for all skin types. Oil or cream for dry or sensitive skin. Yogurt for oily skin (deeper aha-type exfoliation) & Honey for healing (acne) and toning the skin.
Features:
Gently exfoliates and hydrates your skin
Oatmeal calms, softens and nourishes
Green tea stimulates and rejuvenates the skin; giving you a healthy glow
Lavender calms irritation and heals blemishes
Made from organic food that we grind by hand
Safe to eat!
All Province Apothecary products are free of fillers, pesticides, dyes, petroleum, synthetic chemicals + fragrances, GMOs, and animal testing.
About Province Apothecary Products:
Hand-made in small batches on a weekly basis to ensure freshness
Made with organic, raw materials sourced from small, Canadian companies
Packaged by hand in protective blue glass with biodegradable labels that are foil stamped by a local artist
Directions:
Wet face with lukewarm water. In palm, mix equal parts exfoliator + liquid to make a runny paste. (1 tsp exfoliator + 1 tsp liquid). Gently rub onto a clean face and neck in small, circular motions for 1-3 minutes. Rinse off with a damp cloth. Finish with an application of Province Apothecary toner. Use 1-3 times per week. *You'll love using this product in the shower. You can leave this exfoliator on as a healing mask while you condition your hair. **Avoid letting moisture or liquid into the bottle, this will spoil the product.
Ingredients:
Oat Meal Flour*, Lentil Flour*, Flax Seed*, Lavender*, Violet flowers + leaves*, Green Tea Leaf*. *Certified Organic
Highlights