Provita Cordyceps CSM-2000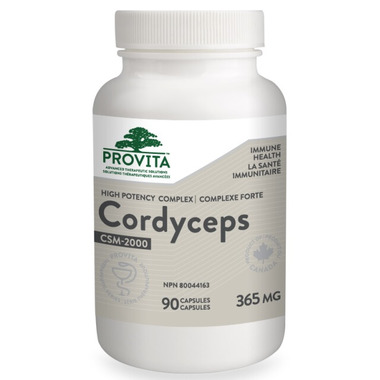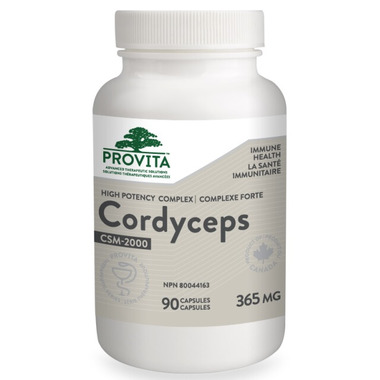 Provita Cordyceps CSM-2000
Unique, highly efficient therapeutic formula. Anti-microbial, anti-bacterial with immunological properties.
Provita Nutrition & Health Cordyceps CSM-2000 is a unique formulation that combines two specific Cordyceps mushroom extracts together with potent fermented Cordyceps powder to achieve a unique, highly efficient therapeutic natural health product. Our product has been formulated based on the theory of Traditional Chinese Medicine (TCM).

Features:
Rich in nucleosides (cordycepin, adenosine) and polysaccharides, Cordyceps mushroom has anti-microbial, anti-bacterial and immunological properties. High extraction ratios as well as fermentation reduce the powder particles making the extract easier to absorb in the digestive track.
Cordyceps mushroom has been used in Traditional Chinese Medicine for a variety of ailments, to replenish the kidney and soothe the lung for the treatment of fatigue, night sweating, hyperglycemia, hyperlipidemia, respiratory disease, renal dysfunction and / or failure, arrhythmias and liver disease.
Active Ingredients:
Each Capsule Contains:
Cordyceps sinensis mycelium 4:1 Extract………………………200 mg
Equivalent to 800 mg dry mycelium powder
typically containing ~7% Cordycepic Acid
Cordyceps sinensis mycelium 10:1 Extract……………………..115 mg
Equivalent to 1150 mg dry mycelium powder,
typically containing ~0.375%Adenosine, ~11.5%
Mannitol, ~10% Polysaccharides
Cordyceps sinensis mycelium (fermented)……………………….50 mg
typically containing ~0.2% 3"-dezoxyadenosine
Non-Active Ingredients:
Microcrystalline Cellulose, Magnesium Stearate
(vegetarian source), Gelatin.
Does not Contain: Dairy, egg, gluten, soy, wheat, corn, yeast, nuts, artificial sweeteners, colours or flavours.
Dosage:
Adults 1 capsule 2 to 3 times per day.
Caution:
If symptoms persist or worsen, or if new symptoms develop consult a health care practitioner. Do not use this product if you are pregnant or breast feeding. If you are taking prescription medications, please consult a health care practitioner prior to use. Do not use if seal is broken. Keep out of reach of children. Keep sealed, store in a cool, dry place at 15–25ºC.