Provita Synergistic Indole-3-Carbinol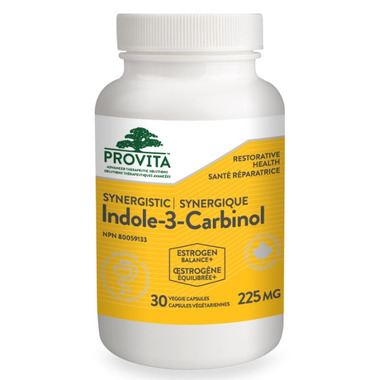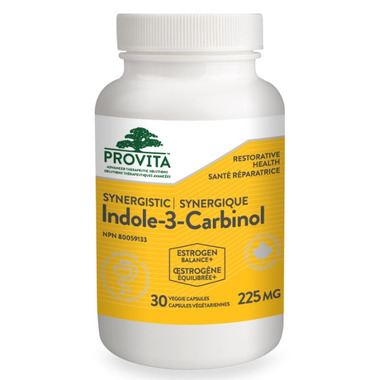 Provita Synergistic Indole-3-Carbinol
Comprehensive formulation including DIM. For healthy estrogen balance.Recent studies show that Indole-3-carbinol (I-3-C) offers powerful antioxidant properties particularly beneficial for women.

Extracted from cruciferous vegetables such as kale, broccoli, brussels sprouts, cabbage, and bok-choi, I-3-C has proven to support safer estrogen metabolism and reduce the risk of certain cancers including breast, cervical and endometrium.

It is also known to support liver detoxification as well as normal cellular division. I-3-C may also have beneficial effect in the management of Herpes simplex virus (HSV) and human papilloma virus (HPV).

Provita Nutrition & Health Synergistic Indole-3-Carbinol, includes Di-indolylmethane (DIM) which works synergistically to potentially inhibit the proliferation of breast, prostate, cervical and colon cancers.

DIM is a stable indole also found in cruciferous vegetables. DIM promotes beneficial estrogen metabolism and helps to reduce the severity and duration of symptoms associated with recurrent breast pain (cyclical mastalgia).

Indole-3-Carbinol can be used for a range of health issues. Besides balancing hormonal levels, assisting in detoxification or just as a general health booster, it can be helpful in treating Fibromyalgia, Laryngeal papillomatosis, Cervical dysplasia, Systemic Lupus Erythematosus (SLE) and Vulvar intraepithelial neoplasia.

Dosage: Adults take 1 capsule 1 to 2 times per day.

Active Ingredients:
Each Capsule Contains:

Indole-3-Carbinol………………………….200 mg
DIM (3,3'-Di-indolymethane)………………25 mg

Non-Active Ingredients: Microcrystalline cellulose, Magnesium Stearate, Vegetarian Capsule.

Does not Contain: Dairy, egg, gluten, soy, wheat, corn, yeast, nuts, artificial sweeteners, colours or flavours.

Caution: Consult your health care provider prior to use: if you are taking any medication or natural health products, have a liver disorder or symptoms of low estrogen (such as joint pain, mood changes, changes in libido, hot flashes, night sweats, vaginal dryness or irregular menstruations). If you develop liver-related symptoms (e.g. abdominal pain, jaundice) or symptoms of low estrogen, discontinue use and consult a health care practitioner. To exclude the diagnosis of a serious cause of hormonal imbalance, consult a health care practitioner prior to use. Do not use if you are pregnant or breastfeeding. Do not use if seal is broken. Keep out of reach of children. Keep sealed, store in a cool, dry place at 15–25ºC.