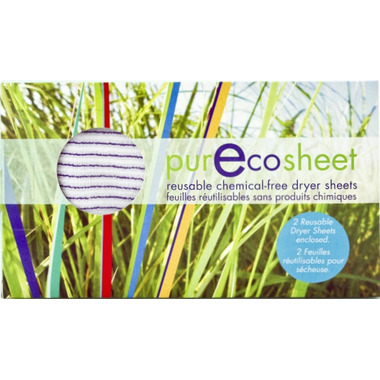 2 Count
PurEcosheet Reusable Dryer Sheets
is rated out of
5
by
43
.
---
Description
This innovative, re-usable product has all the advantages of a traditional dryer sheet, without all the chemicals. PurEcosheet Reusable Dryer sheets eliminate static, soften fabric and reduces wrinkles and lint in your dryer load without leaving a chemical residue on your family's clothing.
Because PurEcosheet offers all these benefits without the use of chemicals, it will also never reduce your clothing's flame resistance. If you read the side of a traditional dryer sheet box, it will instruct you not to use their product on children's clothing. Thanks to this chemical free and health conscious product, you can now use a dryer sheet with all of your family's clothes.
Because this product is 100% hypoallergenic, PurEcosheet is safe for everyone and every type of skin. It is perfume, dye and chemical free, so it's gentle enough for eczema and allergy sufferers, and no one takes better care of baby's sensitive skin.
Your clothing will be soft and static free without any added perfumes, dyes, soaps or chemicals, and will stay soft, natural and safe for your whole family.
Features:
Safe for infants
Safe for sensitive skin, allergy sufferers and eczema sufferers
Eliminates Static
Softens Fabric
Will not affect clothing's flame resistance
Safe for technical fabrics - wicking fibres, cloth diapers
Chemical Free
100% Hypoallergenic
Highlights

Rated

4

out of

5
by
Jennessa
from
I was never a fan of dryer sheets tha leaves chemicals behind on ur clothes. So I always had stati issues but it got unbearable when we moved. Our ne dryer's LOW HEAT setting is super HOT! So we were having more static problems and using 8 dryer balls helped a little but not much. With a newborn in the house the amount of noise the dryer balls were making quickly became an issue. So I was so happy to see this static eliminator! It works well! It may not eliminate the static completely, but it definitely reduces the static in great amount! And added bonus of no harsh chemicals left behind for my little one's clothes!
Date published: 2012-03-15
Rated

5

out of

5
by
Leah
from
Great product! I've used disposable dryer sheets for ages and don't like the waste they create (Plus have heard some fairly unpleasant things about the chemicals in some fabric conditioner liquids and sheets!) so I was really happy to see this item. Inexpensive and reusable, what more could you want?! I've been using them for about 5 washes and they're great. Just put them in the dryer with the clothes and everything comes out static reduced and although not with a scent they seem fresh to me, not quite a lovely line dried smell but not far off. I'd definitely recommend these but also WELL.CA is great!
Date published: 2011-04-18
Rated

5

out of

5
by
erin
from
I will NEVER EVER buy dryer sheets again! I've had these reusable sheets for years now and they work fantastic! No more static and they soften my towels and sheets. You need to throw them in the wash every 2-3 months just to reactivate them and that's about it! For extra softness you can also buy those dryer balls (nellie's makes a good quality one but you can get them at the dollar store too). Both together and you'll never need fabric softener or dryer sheets ever again! Great buy and the best part is no chemicals!!!!
Date published: 2011-06-10
Rated

3

out of

5
by
Kimberly
from
I WANT to love these sheets, but I can't. They reduce static, yes, but they do not eliminate it in the least. But I cannot stand the chemical laden dryer sheets on the market, and there are not many options out there... these dryer sheets are good, but not great, basically saying. Now, using a little vinegar in the final rinse cycle of the washing process and adding those dryer balls with the dryer sheets to the drying process works a little better, but not by much.
Date published: 2011-05-16
Rated

5

out of

5
by
S. Jay
from
I first discovered these at a flea market years ago. It seemed like a good idea so I decided to try them which would avoid chasing to the washer for the rinse cycle to add vinegar. They work very well if you use the sheet for the static causing items and separate from the cotton and like fabric items - which don't cause static anyway. You need to be a scientist these days to do a healthy non chemical wash lol!
Date published: 2017-11-04
Rated

4

out of

5
by
Kait
from
Goodbye dryer balls
To be honest I used to be obsessed with dryer sheets and the washer beads and the smell I would get from washing my clothes etc...until you pay attention to the chemicals! So in an effort to buy cleaner items and also be more conscious in my effort to eliminate more waste I purchased dryer balls. For over 2 years I grudgingly used them. They certainly do not make drying time faster and absolutely do not create less static. A friend recommended the re useable dryer sheets and I'm so impressed! Definitely much less static than the dryer balls (not 100% static free but that even happens with the disposable sheets sometimes) I purchased these about a month a go and am very happy I did. Definitely can't go wrong with the price. My only issue now is what do I do with the useless dryer balls besides them ending up in the landfill?
Date published: 2021-04-14
Rated

4

out of

5
by
Dawn
from
I'm not sure how exactly these work, but they do! No, they don't eliminate every last bit of static (especially when drying sheets, towels, blankets, etc.) but they do make a difference. In addition to not having any chemicals, I like that they're not noisy like those dryer balls and since they just stay in the dryer I no longer have to search for a new dryer sheet each time I do a load of laundry. Would definitely recommend this product.
Date published: 2011-07-26
Rated

3

out of

5
by
Sarah
from
Maybe they do reduce static, but they don't eliminate it. I would probably give them 2.5 stars for performance, except that I really like that there's no smell and no residue. If static bothers you, then this product won't solve that. But if you're like me and don't really care if a few things are stuck together, then they're OK. I would personally rather go without any dryer sheets than use traditional ones.
Date published: 2011-04-24